2003-04 Schedule
Abner Hershberger Art Gallery
Saturday, September 20, through Tuesday, November 4
A Ceramic Legacy
Reception: Friday, October 3, 6-9 p.m.
The identity of the Goshen College Art Department has often been linked to its strong ceramics program developed by the vision of Marvin Bartel. Marvin's arrival in 1970 began a steady and impressive growth in the quality and range of ceramic activity in the department The exhibition of his ceramic work in regional and national venues and contributions to the field in fuel-efficient kiln building, publication of his writings in ceramic publications and especially his ability to engage and inspire students has brought recognition to Goshen College.
Many of his students have pursued ceramics in graduate school and as exhibiting ceramic artists, production potters, ceramic educators, or in a variety of other ways made ceramic a part of their lives. This exhibit celebrates the many potters that have come out of our program.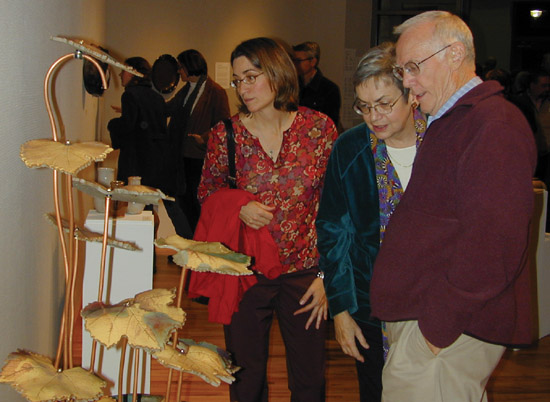 Click here to view photos from the opening reception.
link to 'Ceramic Legacy' press release,
Sunday, November 2, 2003 at 2:00 pm
Goat Island Performance Art Group
Eric Yake Kenagy Visiting Artists
Rieth Recital Hall
Goat Island is a Chicago-based collaborative performance group that was founded in 1987. In their work they try to create a relationship with the audience in space that is different than the usual stage/audience relationship. Some of their movements are dance-like; some are motions we all use in our daily lives. The audience experiences the work somewhat like being within a sculpture that unfolds in time and space around them.
Goat Island will present a collaborative lecture, reading from July, one month in the "2002 -- The Year Long Writing Project." They will also be joined by Lucy Baldwyn, a UK-based filmmaker who will show a short film she made about the group.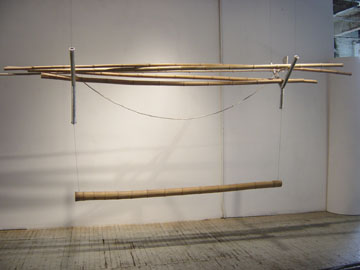 Sunday, November 9, through Wednesday, January 7
Philip Livingston, Sculpture
Reception: Sunday, Nov. 9, 2-4 p.m.
Philip Livingston is a retired multi-media sculpture professor from the University of Tennessee. He currently lives and has his studio in Chicago.
link to Philip Livingston press release
Sunday, January 11, through Wednesday, February 11
Phil Hershberger, Painting
Reception: Sunday, Jan. 11, 2-3:30 p.m.
Ordinary objects are depicted in luminous invented spaces in large-scale encaustic paintings.
link to Phil Hershberger press release
Sunday, February 15, through Wednesday, March 17
Patrice Bovo, Mixed Media Sculpture
Reception: Sunday, Feb. 15, 2-4 p.m.
Playful, architectonic forms of games and throw-away materials.
Sunday, March 21, through Thursday, April 1
Senior Show 1
Reception: Sunday, March 21, 2-4 p.m.

Exhibit of graduating senior art majors.
Sunday, April 4, through Friday, April 23
Senior Show 2
Reception: Sunday, April 4, 2-4 p.m.

Exhibit of graduating senior art majors.
Friday, April 23, through Sunday, April 25
Senior Commencement Show
Reception: Sat. Apr. 24, 3-4 p.m.

Combined works by senior art students.
Sunday, May 2, through Monday, May 17
Juried Student Show
Reception: Sunday, May 2, 2-4 p.m.
Selected Goshen College student work.
Monday, June 7, through Wednesday, September 15
Douglas Kinsey, Printmaking & Oil Painting
Reception: To be announced

Most of Kinsey's work deals with individuals within a community. The context is often one of conflict or hardship in which one tries to survive with integrity.