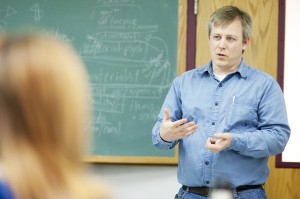 Sociology majors develop skills in the methods of social research and cultural interpretation. These include: cross-cultural comparative analysis, interview/survey research, ethnography, and participant-observation. Putting these methods to use, our majors have contributed to the quality of community life through such projects as:
interviewing and, for a day, shadowing an obstetrical nurse on a hospital obstetrics unit
working with the elderly at a nearby retirement center
surveying GC graduates about the impact of GC's Study-Service Term on later experiences
surveying opinions on peace and justice issues
working with a local community development agency on evaluating development efforts in a local low-income neighborhood
studying jail overcrowding
evaluating programs for high school age mothers
updating census information about a low-income neighborhood for a civil rights agency
studying gender differences in sports
working with tenants and housing codes to improve living conditions for low-income families
evaluating court operations for a county judge and working with victim-offender programs
Gaining urban life experience
Some GC students choose "Urban Diversity" at the Chicago Center. Initiated in 1968, the Chicago Center is located in an integrated community near Hyde Park and the University of Chicago. For a term, students might survey volunteers in homeless shelters, promote college enrollment or economic development or get involved in AIDS-education. One GC Sociology major helped organize a United Nations-sponsored international conference on the African country of Namibia.
GC sociology majors have also opted for off-campus study in similar programs elsewhere such as the Washington Community Scholars's Center in Washington, D.C., or the CASAS program in Guatemala City, Guatemala.
Teaching
GC sociology students are well prepared for graduate programs; two recent majors won awards for excellence in teaching undergraduates while doing graduate work at a major university.
GC students who plan to teach social studies in high school can elect sociology as their primary field. Today's schools need strong teachers who understand social life and culture and can challenge their students to make the world a better place.
Specializing in public policy research or community development
Because public policy research and community development are applied fields closely related to sociology and anthropology, Sociology majors lay the groundwork for graduate study in careers that develop and evaluate programs of social assistance and improve public and community life either at home or abroad.