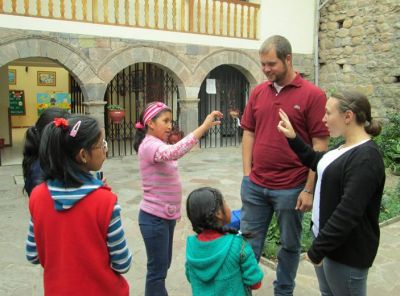 Goshen College has a unique Study-Service Term (SST) in which students spend a semester in another country learning its language, history and culture, and then providing service in some way.
What is remarkable is that we have a special SST unit for students who are studying ASL. Our students go to Peru in a hybrid unit with students taking Spanish. The group is together in Lima for the first half of the semester, where they study together in the morning and then break into language classes in the afternoon. Guest lecturers teach about the art, culture, politics and history of Peru. Speakers are also brought in to talk about education and issues related to the Deaf population in Peru.
The ASL students live with host families who have at least one Deaf member, which gives them opportunities to continue working on communication skills at home. They also attend many meetings, activities and parties where they can socialize and learn more about the Deaf community. During the second half of the semester, the students are sent to service assignments. The ASL students provide service in the Deaf community, which usually involves working with Deaf children in the schools and orphanages of Cusco.
This is a wonderful opportunity for our students to become more involved with Deaf culture and to work on cross-cultural communication skills.