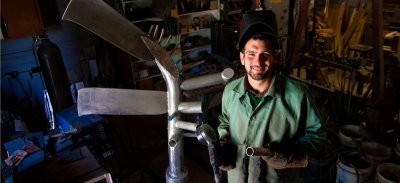 While Tim Landes was studying art at GC, he was already making a name for himself in the local community. His environmentally friendly sculpture design was seen in galleries both on campus and across town. 
After he graduated from high school, Tim volunteered for a year of service in Albuquerque, N.M. When the year was up, he headed for Goshen College.
"I always thought about continuing my education after service, so I started asking around," said Tim. "I heard a lot of good things from friends I knew at Goshen, so I decided to give it a try."
Upon his arrival, Tim realized he could do everything he loved and more.
"I've always enjoyed making things and building, so I decided to be an art major and work with sculpture," said Tim. "Then I also started thinking a lot about the environment and sustainability, so I took an environmental science class. When I would make my art, I'd think about the elements of nature as visuals, and about my own environmental impact."
Tim's sculptures were all made from recycled materials. Some, he bought from the junkyard. Others, he found on the street. Just as Goshen College values peaceful stewardship of the environment, Tim is explored sustainability through art.
"With all of the art I made, I thought I should be aware of its environmental impact," he said. "I liked to let the material inspire the sculpture, because I saw a lot of aesthetic beauty in nature and in raw, found materials."
His personal style developed as a result of Tim's small classes and the mentorship of his professors.
"My studio classes gave me a lot of freedom to work on personal ideas and to follow my own set of values within the field, he said. "Learning directly from accomplished artists meant that I could learn both about making art and thinking about a career."
Even as an undergraduate, Tim was making a name for himself and submitting work to exhibits.
"There are a lot of artists working in Goshen, and the area has a high appreciation for the arts," said Tim. "I submitted to juried shows both locally and regionally, and I even sold a couple pieces."
To Tim, studying art wasn't something to stop once he graduated. He believes that art is an integral part of living.
"I think art can become a way of life," he said. "I would like to make it into a business for myself, but it's most important to me that I let materials and ideas guide my creativity."
–written by Anna Ruth '12