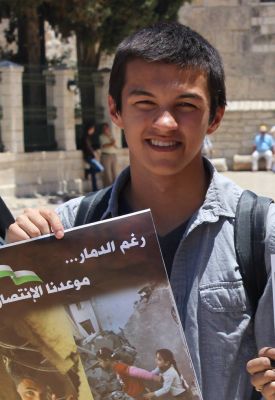 Sam Carlson was a peace, justice and conflict studies (PJCS) major with a minor in women's and gender studies who takes his PJCS studies seriously. In the summer of 2014, he served at a conflict resolution center in Palestine.
What do you like most about Goshen and why?
I value the sense of holistic education. It's awesome to look at the course list and see that I can take a course with prison inmates or at a local hospital. I can build my curriculum vitae by simply taking a class!
Why did you choose to come to Goshen College?
I came to Goshen because it's a community of "doers." I've grown up in the Goshen area my whole life, and I've seen the work of students, faculty and staff within the community. I wanted a college that was alive, moving and active. Goshen seemed like a perfect match.
How has Goshen College influenced your faith or worldview?
I have become more culturally competent. It's interesting to take classes with people from all over the world. The diversity of life experiences makes class discussions very valuable.
What do you hope to do with your degree?
I hope to continue my education in community development and Arabic. Throughout my time at Goshen, I've developed a passion for social justice, and I'd like to explore where social justice and community development intersect.
What advice would you give a prospective student?
Be open to new possibilities your first semester. I went into college with the following four years planned. It wasn't until my second year when I saw that my plan was leading me in the wrong direction.
What is an influential experience you've had outside the classroom?
In the summer of 2014, I lived in Bethlehem, Palestine. What I said, what I did, and to whom I could speak was out of my control. I was in Palestine when Israel was invading Gaza, and violence was ever-present. Serving at a conflict resolution center amidst war and violence was incredibly powerful.
One particularly powerful moment was during a Taizé morning worship service. It took place next to the separation wall following a particularly violent night. As we concluded the meditative worship, a small child said a prayer aloud. At eight years old, she prayed for the safety of all the children in Gaza. She prayed for peace in their minds and hearts. The maturity of this young child, praying for the children in war, was very influential for me.