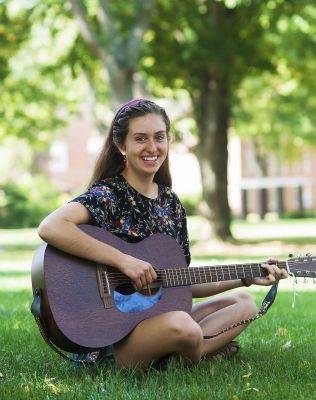 Sadie Gustafson-Zook, a 2017 music graduate, had the chance to participate in a variety of activities during her time here. As she puts it, "There is so much going on at Goshen. I wish I could be two places at once!"
What do you like most about Goshen and why? The best part about Goshen College is the random location. Who would have thought that there would be a good liberal arts college in the middle of Northern Indiana? The Music Center is way too nice to be in Goshen–but it is. And I get to enjoy it. I enjoy Hymn Club, Swing Dancing Club, Lavender Jazz concerts, ultimate Frisbee, Kick-Off, talent shows and open mic nights. There are so many opportunities and events happening on campus. It's nice to be at a college where I have the opportunity to try out all sorts of groups and have a broad array of experiences.
Why did you choose Goshen? Goshen is full of friendly people. I originally didn't want to go to school so close to home, but the people I've met here have made it more than worth it. I used to say that if Goshen was anywhere else, I would definitely go there. But now I'm here, and even though it's familiar, I still want to be here! So the people really do make all the difference.
How has your GC experience changed your views? It's nice to be in classes with people from all over the world. The different perspectives make classes and discussions more interesting. Hearing from people with backgrounds different than mine and making connections with those people gives me a better understanding of the world.
What was your favorite class and why? My favorite class was chamber choir. When we had our first rehearsal, we sight-read all the music and it sounded good. The music was really difficult and yet, we didn't have any train wrecks. It's great to be at a college where this kind of thing is possible.