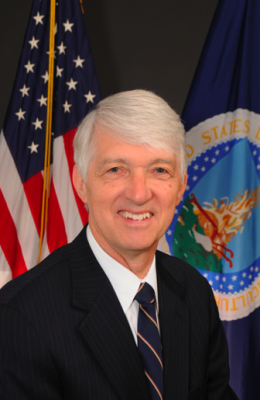 Roger Beachy graduated from GC in 1966 with a biology degree. In 2014, he was nominated by President Barack Obama to the National Science Board for the National Science Foundation (NSF).
In the summer of 2014, President Barack Obama announced his intent to nominate 1966 Goshen College graduate Dr. Roger N. Beachy to the National Science Board for the National Science Foundation (NSF).
The National Science Board is the NSF's governing body that advises the president and U.S. Congress on environmental and agricultural research. If Beachy is elected, he will serve alongside 23 other members who meet six times a year to establish foundation policies.
The NSF is a federal agency that promotes the progress of science and the advancement of national health. The foundation's budget is more than seven billion in the 2014 fiscal year and is the primary funder of roughly one-fourth of all federally supported research at the college and university level. The NSF mission is to fund projects that lead to enhanced learning, discovery, research infrastructure and leadership. As one of the foremost research foundations in the country, the NSF has funded 212 Nobel Prize winning projects in the past few decades.
After earning a B.A. in biology from Goshen College, Beachy went on to earn a doctorate in plant pathology from Michigan State University. His expansive credentials show his passion for international food security as well as agricultural biotechnology.
In 2009, President Obama appointed Beachy as the first director of the National Institute of Food and Agriculture (NIFA). NIFA, a USDA agency, uses innovative research to develop more environmentally friendly agricultural techniques that ensure economic viability of agriculture production. The agency was created in response to a task force led by William H. Danforth, who founded the Donald Danforth Plant Science Center where, at the time that he was appointed to NIFA, Beachy was acting as founding president.
Beachy has also served as director of the World Food Center at the University of California Davis and as founding executive director and CEO of the Global Institute for Food Security at the University of Saskatchewan.
Beachy first discovered his interest in biology while a student at Bethany Christian High School in Goshen. While at Goshen College, Beachy was inspired by faculty members to pursue plant biology. It wasn't until the agricultural revolution in the late 1970s that Beachy began researching genetic manipulations of microorganisms.
One of his most notable projects was the development of disease-resistant tomatoes in partnership with Monsanto Corporation. Eventually, Beachy and a team of experts expanded the disease-resistant manipulation to cucumbers, papaya and a variety of worldwide crops.
As one of the founding fathers of agricultural biotechnology, Beachy firmly believes in reducing chemical pesticides in favor of genetics, not agrichemicals. According to Beachy, agricultural biotechnology does not harmfully disrupt natural processes. He believes that the technology is as safe as early forms of genetic modification.
Beachy's firm stance in environmental ethics and his passion for social justice have driven his life's work: to feed the world without harmful engineering.
—by Liz Core '14