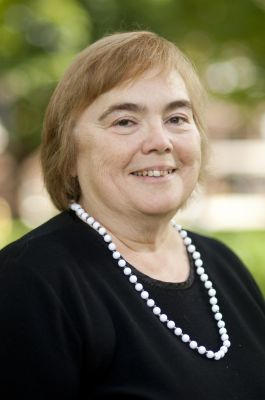 Professor of Communication
---
What do you love most about teaching GC students?
I love teaching a diverse group of students from many backgrounds and places. I have found GC students to be eager to learn, excited about being involved in current issues and willing to work hard at intercultural competence. They seek out opportunities to serve others and be engaged in the world locally and globally. During May term 2014 I had the opportunity to co-lead a group of students to Kenya to practice public relations with the Foods Resource Bank, a food security organization. One part of our student team, a video crew, filmed for two documentaries, one on the small farmers of the Ndeiya region of Kenya, and the second on the Maasai tribe in the Ngong Hills. The other members of our group interviewed people in these same areas and wrote feature articles and reflective articles. I was proud of our students' ability to work with sensitivity and integrity in this cross-cultural environment.
What excites you about communications?  
I love the opportunity to help students become excellent oral and written communicators. I also get excited about the field of intercultural communication and the realization that it impacts everyone in the global world we inhabit. I appreciate the opportunity to introduce students to the theories and concepts in this field and to see them apply these in their own lives, whether in SST or in connections with people of other cultures in their home towns.
My own research is in the area of interviewing and gathering life histories of Mennonite women of color. That work has resulted in a play called Heavenly Voices, an ethnodrama which continues to travel to various places in the United States to share these women's stories.
What do you enjoy doing outside of your academic work?
When I am not teaching, I love to visit my two adult children and their spouses in California and Ohio, travel in the United States and abroad, and play piano. During May 2014 I had the opportunity to spend time in Istanbul, absorbing its history and culture. In the summer of 2011 I spent three weeks in Spain studying the language and culture. Such adventures energize me and invite me to know more of the world and its peoples.
How does the college's vision (international, intercultural, interdisciplinary and integrative) connect or shape your teaching and work?
My own family is an intercultural, interracial one, and my own experiences, I believe, as well as the college's international and intercultural vision shape my teaching, whether in Communicating Across Cultures, Organizational Communication or in Communication Senior Seminar. Every area of communication today is impacted by international and intercultural connections. In addition, communication is a key element in every discipline, making it a truly interdisciplinary field which encourages integrated learning.
How do you strive to make peace through your work and life?
I believe that the sharing of stories is one way to work at peacemaking. As we come to know another person who at first glance appears not to be like us, story becomes a way to discover our common humanity.
Is there anything else you would like prospective students to know about you?
I am eager to meet students and work with them in the areas of communication, public relations and intercultural communication. I look forward also to knowing them as whole people, not just as students who are studying in a particular discipline.