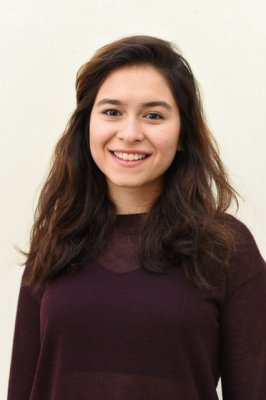 Nasim is a '20 interdisciplinary studies major from Tehran, Iran. She was a member of the Women's World Music Choir, International Student Union, Latino Student Union and a resident assistant on campus.
What do you like most about Goshen and why?
I like the Mennonite culture. We are family friends with some Mennonite families and that's how we got to know Goshen College. It's a factor that makes me feel more connected. And I like the music and singing here. I also like my international student club. I have very important friends who have impacted my life that were international students. I look forward to meeting more international students from different parts of the world.
Why did you choose Goshen?
My brother went here and he had a really good experience, it was his encouragement to come to Goshen. I got excited to do things that my brother had. Also, it was a small school that had a strong community. I knew some families here so it was familiar for me to come because I was getting away from home, far from my family and my parents. It was the best choice and best place that I could come that wasn't out of the blue. My parents really adore the faithfulness, school with religion and strong community, so they felt like I was safe here.
What's it like being at a small college so far from home?
I appreciate the small community, but there's no other Iranian students, there's not an Iranian community in Goshen. It's just hard not to be able to speak your own language and when you do certain things, not to look weird, especially in food choices. Right now it's very hard but [the community] it's small enough that you can click with people and get to know everybody sooner.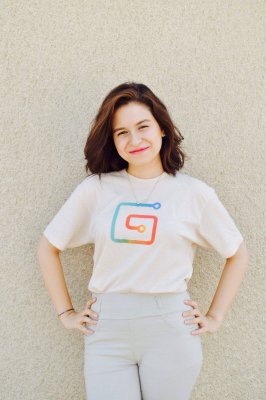 What do you hope to do with your degree?
I'm not 100% sure but I'm thinking about doing a year-long SALT program in another country. After that, I imagine going home and starting a business with my parents. My brother is really supportive with that and he has a lot of ideas. I really want to work with my dad somehow, the distance has made me appreciate my parents so much.
What is your favorite experience at GC so far?
I love singing in choir. I never thought I would make it in because I've never officially or formally studied music. I didn't even audition last year because I didn't think that I'd get in. But then I just tried it this year and it's been a very nice a cheerful part of my life.
What advice would you give a prospective student?
College is very different from high school, time management is very important. When you come to college, especially in your first year, you want to find friends but you also need to do your schoolwork. So it's very important to put limits on socialising and also studying. Don't forget to put some time in for yourself. Take care of yourself, exercise and be careful for the freshman fifteen. Secondly, don't be scared to reach out to people. Sometime we forget that we're all going through the same thing, even if it doesn't look like it. Reach out for help from your classmate and your profs, because they are the best source and they're always willing to help you.
What surprised you about Goshen College?
That people went to class in their pajamas and flip flops and people call the profs by their first names. The amount of students that were casual and relaxed in classes, I was like 'Is this heaven or what?' Back at home it's just so different, you cannot call your prof by their first name and you've got to wear shoes and got to dress up for school. That definitely shocked me but it was a good shock.
How did you end up coming to the U.S.? What age were you and do you hope to continue living here or do you want to bring your talents etc. back home with you?
I came for the first time when I was around 12, for a month. I came with my parents, because my father was about to come and teach in Notre Dame. After that we came back for one academic year and I studies my 6th grade when I was 13. I came for several times after that for short periods of times with my parents; again because my dad either taught in Notre Dame or he had research projects there.  My father does interfaith dialogues and so he got to know Mennonites. Thus my brother came to GC and now I am here.