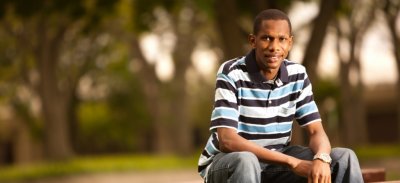 Mohamed Meissara graduated in 2013 with a TESOL major. He came to Goshen College from Mauritania as a Fulbright Scholar, but he was also a soccer player, a leader, a Muslim and a peacemaker.
I was a Fulbright Scholar, so my college was chosen for me. When I heard that I'd be going to Goshen, I was very happy to learn there is a soccer team; it was the first thing I checked!
As a student, I met people from all over the world. I enjoyed being in a Christian community. As a Muslim, it was good for me to learn about the Christian faith. I learned that, although we think about our differences, we have many similarities. Being at Goshen was a very positive experience.
After graduation, I went to graduate school at Ohio University. Someday I will go back home to Mauritania. I hope one day to be the president of my country – to be able to make change there. I want to improve the situation of people in my country.
I'm hopeful for a world where people don't manipulate religion to meet their own needs. That's when religions start clashing with each other. Every religion has a core message of peace. If we can keep religion pure, as it is supposed to be, it can always play a role in making peace.