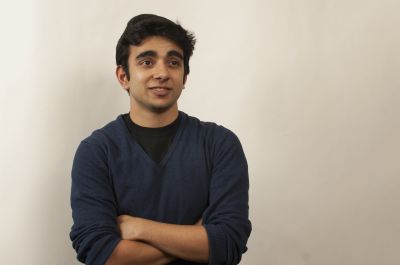 Mikhail Fernandes, a 2016 graduate from India, was an interdisciplinary major with concentrations in music, broadcasting and sustainability.
Why did you choose Goshen College?
Bringing peace, justice and reconciliation are the college's values and traits that resonate with who I am and what I believe in. Goshen College provided me with the reality of studying at a small college with a strong liberal arts education.
What has kept you at Goshen College?
The immense financial generosity provided has helped me stay at Goshen. The professors that I work with are very supportive and they encourage learning that goes beyond the classroom. The Core program at Goshen has also provided me with a fresh outlook of the world through the perspective of the Mennonite faith. The community here has become family to me and it brings me great joy in saying that Goshen has become a home away from home.
What do you hope to do with your degree?
I believe in doing service and hope to give back to the underprivileged of my country. I've grown up near slums and have witnessed horrific poverty. My family taught me the values and the principle of helping the underprivileged. After attaining my degree, I intend to work with NGOs and build self-sustaining communities and work on providing a free education to those who cannot afford one.