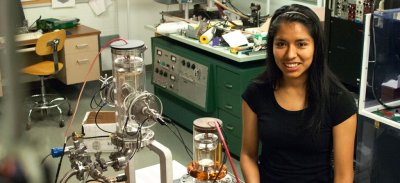 Michelle Espino, a 2014 grad from Fort Wayne who majored in physics and mathematics, is an avid Colts fan and loves listening to The Beatles. At Goshen, Michelle balanced classes, track practices and mentoring at a local high school.
Why did you choose Goshen College?

One of the main reasons that I chose Goshen was because I loved the atmosphere during my first college visit. Everyone was extremely nice and the professors seemed genuinely interested in helping students. What completely convinced me was the SST program. I was excited to find out that I would study abroad for a semester.
What do you hope to do with your degree?

I plan to get a civil engineering degree. The degrees I received at Goshen will help me with my engineering classes. Once I get my engineering degree, I want to travel across the world and help build hospitals, schools and other structures that will help third-world countries.
What opportunities have you had at GC?
The CIIE (Center for Intercultural and International Education) program here gave me the opportunity to share my college experience with local high schools students. I gave them tips and advice on how to prepare for college and they seemed to really appreciate it. It made me realize that no matter how simple or easy it may be, volunteering opportunities like mentoring can be very beneficial to others and I'm glad I could help.
What should every GC student experience?

Every student should study abroad if they have the opportunity. The SST program pushed me out of my comfort zone, but it's one of the best things that happened to me. I went to Peru for SST and although my host families never had many luxuries in their life, they were still the happiest and most loving people I have ever met. It was a life-changing experience that I'll never forget.