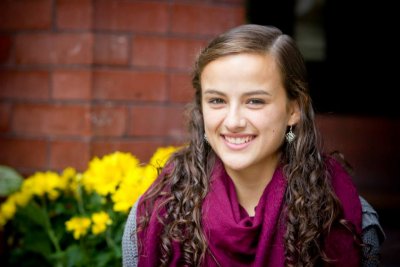 Maddy Garber '18 is a psychology and music double major from Lancaster, Pennsylvania who participates in choir, intramurals and swing club when she's not in class.
What do you like most about Goshen and why?
I like the community and the support that comes with Goshen. It changes everything to know that people around you have your back.
Why did you choose Goshen?
Again, the people. I was looking at a bunch of schools out east, but when I talked to certain people here, I felt much more at home than at any other college.
What do you hope to do with your degree?
I would like to get my doctorate in psychology with a concentration in neuroscience so I can research the brain.
What is your favorite experience at GC so far?
I really enjoy singing in the choirs. I also love being a part of dances with different people and from different cultures.
What has kept you at Goshen College?
We have really high quality professors who are really dedicated to us, and that seals the deal for me.
What advice would you give a prospective student?
Never think you have it all figured out.
What was an influential experience you've had studying abroad or outside the classroom?
Having conversations with people who don't share the exact same Mennonite-hymn-singing camp-going background. I also have had the chance to hang out with many international people, and they have changed the way I see things now.  
What has your experience been like attending a small college far from home?
I do miss being able to be home with my family, but it's been nice to become integrated into a community — a home away from home.
What surprised you about Goshen College?
That it may be tiny as far as colleges go, but it doesn't feel so small if you go outside your comfort zone, because there are plenty of people here that you can get to know better.