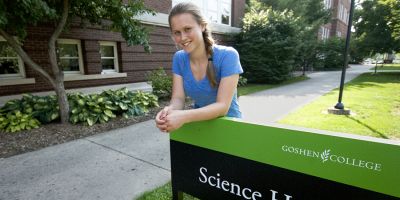 Kara Hostetter, a 2016 molecular biology and biochemistry graduate, had attended three schools in Africa before coming to Goshen. At GC, she found similarities in the small class sizes and close relationships.
Why did you choose Goshen College?
My experience being at Eastern Mennonite High School (EMHS) for eighth and ninth grade was framed by my entire lifetime spent overseas, attending the international schools in Tunisia, Uganda and Ethiopia. I love the culture of both the international schools and the Mennonite school that I attended and I felt that GC offered a combination of qualities of both with its commitment to Christ and its intentionality for diversity and global awareness.
How has your faith changed?
The integration of theological discussions both in and out of the classroom at GC provided the opportunities to share my own faith perspectives and opinions as well as listen to those of my peers and professors.
What opportunities have you had here?
I played volleyball for GC and learned so much about teamwork, commitment and perseverance from my teammates and the coaching staff, in addition to creating memories and friendships. During our spring season, because of my coaches' flexibility and understanding, I also had the opportunity to sing in chorale and the Women's World Music Choir and loved being a part of such a talented group of singers.
What makes Goshen different?
Being at Goshen College is helping me to value and celebrate diversity in a different way. I am learning to find diversity in the small, more significant aspects that really make a person an individual rather than the general factors that make a person just part of a demographic.