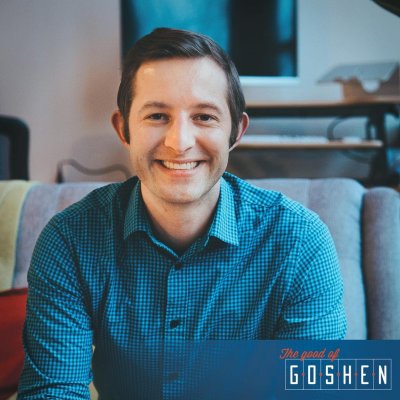 From Good of Goshen
"From a really young age, I knew two things about myself: I liked to make things and I liked to help people.
I was born and raised in Goshen. I attended Bethany Christian Schools and went to Goshen College where I ended up graduating. Now, I teach as visiting teaching faculty in Visual Communication Design at the University of Notre Dame. On the days I'm not there, I'm here at LightBox – Goshen, a co-working space in downtown Goshen.
In 2015, I started after my master's degree at Kent State University. I ended up commuting from Goshen to Kent State while I was attending because neither my wife or I wanted to leave Goshen and we couldn't both find jobs in OH. The commute wasn't the easiest, but it ended up being amazing because I was able to get my MFA while also being in Goshen for the weekends and staying connected there.
I joined Lightbox in spring of 2017. Since joining, it's been a fantastic experience. I continue to be surrounded by creatives, which was something I wanted to carry over from graduate school. As an artist, being part of the revitalization of Goshen has given me energy.
I've lived in places that are considered 'actual cities'…but LightBox here in Goshen is just as nice as the spaces I found in larger 'actual cities'. There's life in this town. Going to spaces like Goshen Brewing Company or Pizzeria Venturi – it makes you feel like you're in a big city. The creative movers and shakers have re-envisioned Goshen and I am thankful for them and for Goshen."