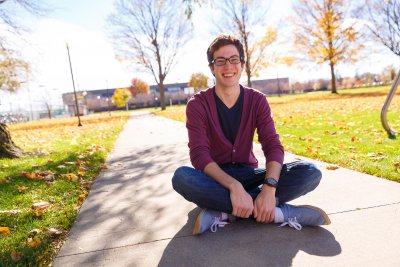 Jesse Bontreger, a 2017 graduate from Goshen, Indiana, didn't have to go far from home to find a college he loved. A double major in theater and communication, Jesse got plenty of opportunities to show his passion by performing in plays and musicals. He worked as a ministry leader (ML) for his peers and a student technician for ITSMedia. He also spent a semester in Los Angeles as part of the film production program.
What do you like most about Goshen and why?
As a Goshen native, I was initially skeptical about attending college so close to home. I've come to find that this is actually one of my favorite things about Goshen College. Campus feels like an entirely different world, and I am able to experience the independence of college life while still enjoying the convenience of familiar surroundings.
Why did you choose to come to Goshen College?
I chose to come to Goshen College because of the institution's commitment to Mennonite values and focus on global awareness. Goshen proves time and time again that it cares about tackling the tough issues and discussing them in an insightful and respectful manner.
How has Goshen College influenced your faith or worldview?
Goshen College has shown me how to effectively integrate faith and spirituality into every area of life. I'm slowly learning that God isn't restricted to Sunday mornings and chapel hymn sings. God belongs in my work and in my play, in the classroom and in the dorm. Everything inside me must worship God.
What do you hope to do with your degree?
I hope to continue directing and performing in live theater and film. I'm excited to see how my core values and faith can be integrated into my future work with the arts.
What advice would you give a prospective student?
Get ready for a lot of Taco Bell and Ramen.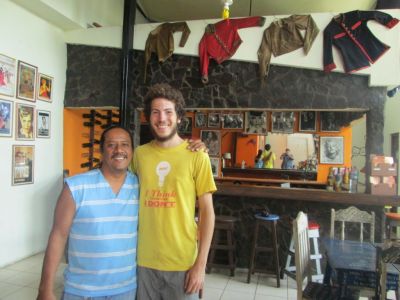 What was an influential experience you've had studying abroad?
I went to Nicaragua for SST, where I worked at a theater company in Managua, and I have had cross-cultural experiences in Australia, New Zealand, Paraguay, Brazil, Costa Rica, Spain and Morocco. I am continually reminded of and humbled by the goodness and hospitality of people from all corners of the globe. Each cross-cultural adventure expands my scope of the world and reveals a new piece of God.