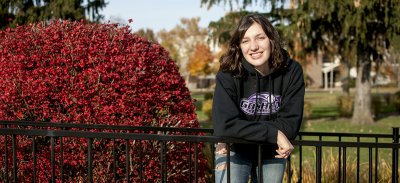 Thanks to Goshen College's friendly community and the chance to play volleyball and basketball, Jaime found her niche at GC.
Why did you choose Goshen?
I chose Goshen because I wanted to play sports. I made great friends, found a good program to study and realized that being close to home was a blessing in disguise.
What opportunities have you had here?
I've learned to balance practice/games, homework/studying and my social life. The social part of college is hard to ignore and even harder when you're an athlete because every non-athlete has more free time than you. But it can be done and I'm glad I'm learning because it's showing me how rewarding hard work can be—and also how much more fun it is to hang with friends knowing you've done all you want to accomplish.
How have your views changed?
Since Goshen is so mindful of the environment and peacemaking, it has made me more mindful of those things, too. Now, that doesn't mean I recycle all the time, want to plant a prairie in my backyard or convert to pacifism. But I do think about what my actions can do to aid in peacemaking and helping the environment become a little cleaner.
What makes Goshen different?
The people are the best part about Goshen. The atmosphere is very lively and community-oriented. Everyone is friendly and welcoming and friends are not hard to find. And finally, we're the Maple Leafs! Who doesn't want to be one of those?
What should every GC student experience?
I think every GC student should experience a 3 a.m. Steak 'n Shake run. You'd be surprised at the memories you make and the number of other Goshenites you see there!