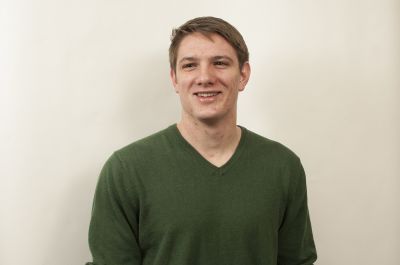 Jacob Yoder graduated from Goshen College with a history major and a global economics and international studies minor in 2014. Along with being a top student, he played on the GC men's soccer team for all four years.
Why did you choose Goshen College?

I chose to come to Goshen College because of its distinct Mennonite values. Being Mennonite was always a significant aspect of my identity growing up in Ethiopia during my middle school years and then in Iowa during high school. It was a tradition I felt I could explore further at Goshen both spiritually and intellectually. Additionally, the prospect of playing soccer at the collegiate level was difficult to turn down.
What has kept you at Goshen College?

Community is a big word at Goshen, and you feel it. Through class and athletics, I've developed so many relationships with so many different kinds of people. People are friendly, and it's delightfully inescapable. But what has really made the Goshen experience so enriching was the opportunity to study abroad. Living and traveling in Peru helped me grow so much as person. The lessons I learned, whether in a lecture on rural poverty or just spending time with my host family, left an impression on me that will stick with me the rest of my life.
What do you hope to do with your degree?

The options are endless for me and I like it that way. I plan to further my education by attending graduate school for international development or law. Eventually I hope to work for an NGO internationally on poverty alleviation.