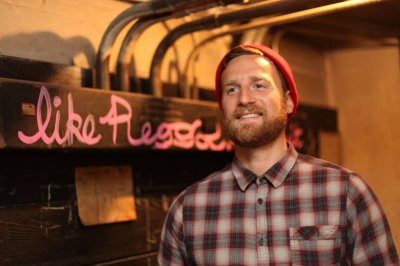 Eight years ago, J. Sider was mopping floors at small concert venues. Today, the Goshen College alum is founder and CEO of BandPage, a popular online platform for musicians to build a presence and post content for fans.
With over a half million musicians as users – including big names like Beyoncé, Bruce Springsteen and Justin Timberlake – BandPage has become the platform of choice for musicians to grow their fan base and increase revenue. Since 2010, the San Francisco-based startup has raised over $19 million from two rounds of funding.
In fact, BandPage has been so successful that Sider was named to both Inc. Magazine's and Billboard's "30 Under 30" music lists as well as to Forbes' "30 Under 30: Music" three years in a row.
Sider doesn't take his success for granted, though. A 2003 Eastern Mennonite High School graduate, Sider was diagnosed with lymphoma at age 19 and told by doctors he had only months to live. When it came time to decide on a college, Sider chose Goshen College not just for its academic programs, but also for its close proximity to IU Health Goshen Hospital.
Not surprisingly, Sider's experience at GC was somewhat atypical. In some ways he was a normal student, dividing his time between music and business classes, soccer games and a men's choral octet. But unlike other students, Sider was frequently confined to the nearby hospital for rounds of chemotherapy.
"Goshen College was a great time to make lasting friendships," Sider said. "But I was tied to hospital debt and feeling sort of stuck."
When his cancer finally went into remission in 2005, Sider felt like he had been given a second chance to follow his dreams.
"My time at Goshen College helped me see things really clearly," Sider said. "When the doctors gave me a month to live, I realized that all the stuff we normally care about – material things, success – doesn't matter. You just need to get out there and do what makes you happy.'"
With a renewed sense of spirit, Sider decided to leave Goshen to pursue a career in the music industry. Over the next six years he hopped from city to city, working his way up from mopping small venue floors to managing 4,000-seat arenas. He also began to manage bands and learned the challenges of booking shows and promoting tour dates in the digital era.
"After years in the live music industry, I thought, 'There's got to be an easier way for musicians to promote themselves and make more money online,'" Sider is quoted on the BandPage website. "I wondered, how can we help bands reach fans through Facebook and other online platforms? I wanted to help connect the dots."
Then he had an idea: why not create an online tool that manages an artist's online presence with one central platform? The app would help musicians customize information, sell merchandise and upload songs on Facebook, and in turn, Sider's business would get a 15 percent cut of sales.
So in 2009 he assembled a few friends in San Francisco and launched a startup to do just that.
At first, Sider's company was just a handful of guys working late nights in a cramped apartment and living off rice and beans. But over the next two years, BandPage grew to be one of the most popular apps for musicians wanting to create more dynamic Facebook profiles. At its peak, the app was seeing 32.1 million monthly active users and 1.5 million daily active users. Investors followed suit and the company was soon worth millions.
But then Facebook did something unexpected: it introduced the Timeline format in 2012, making the structure that BandPage was built on obsolete. According to TechCrunch, this change "removed the ability for musicians to set their BandPage app as their default landing page, and added the glossy cover image and other features that distracted visitors from the little box leading to an artist's BandPage. In two months, BandPage lost over 90 percent of its traffic."
This setback spurred Sider to take the company in a different direction, moving beyond Facebook to a framework that would integrate multiple music platforms on the web. The new BandPage would allow artists to update their information – profile, bio, pictures, videos, tracks and tour dates – then sync it across the Internet in one click. Today, an artist can update their Facebook, Twitter, SoundCloud, VEVO, personal websites and more in just minutes.
BandPage also introduced a feature that lets fans pay to have a custom experience with their favorite artists, such as a private music lesson or a chance to ask band members questions in a one-on-one Skype session. Experiences range from a $15 prank call by the indie band Wild Child to a $4,000 meet-and-greet with Ozzy Osbourne.
Ultimately, said Sider, the goal is to connect bands with their fans and help them build a sustainable career. The company's financial success and Sider's recent recognition in Forbes and Billboard are "like a nice high five," but he's more concerned about doing work that is meaningful to him.
"BandPage is my favorite 'game,'" Sider said. "I love playing this game, figuring out how to move the parts, connecting the dots. My cancer taught me that life is about doing what makes you truly happy."
– by Ariel Ropp '13