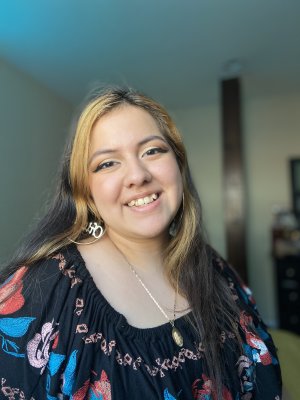 Goshen
Major: Theater
Why did you choose Goshen?
Goshen was close to home and had everything I wanted. I'm from Goshen, so during middle school and high school I went on multiple field trips to Goshen College. Before the pandemic, I had the opportunity to talk to a theater professor and from that I felt the support from the theater department and knew it would be a good fit for me.
Why did you choose your major?
I've been doing theater since middle school and I've always felt connected to the arts. I believe we build connections through storytelling and theater does just that.
What career are you interested in pursuing?
I want to be involved in the theater industry. As of right now I want to be an actress. I want the opportunity to tell stories and reach hearts and minds so we can all live in a kinder place.
What is a valuable experience you have had at Goshen?
I performed a piece I prepared for my Power of Story class at the Academic Symposium in the spring. Among the sessions for the biology students presenting their research, there was a slot for theater students to perform and present what we've been working on. Often in high school the arts were always pushed away and seen as less than other programs. I felt valued and felt seen in my studies of analyzing the piece I was performing.