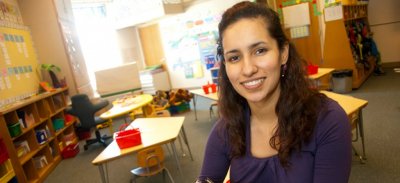 Since middle school, 2012 graduate Daisy Gaspar has known she wanted to be a teacher. At Goshen College, she was able to meet that goal. 
Since middle school, Daisy Gaspar has known she wanted to be a teacher.
As a graduate from Goshen College as an elementary education/special education major, Daisy was able to achieve her goal.
At first she considered larger universities, but Daisy was drawn to the support that Goshen College offered.
"The experience of being in a smaller school is that you feel more at home," said Daisy. "You will get to know the teachers better. Everyone on campus makes you feel comfortable. There's a lot of respect."
Daisy's path to Goshen College was not always easy. Her parents, Martin and Maria Gaspar, came to the States from Mexico looking for a better life. They worked very long hours, frequently coming home exhausted.
When Daisy was in high school, her family moved from the Latino neighborhood, where she was born, so her parents could find work. It was a difficult adjustment attending a new, predominately white high school, but Daisy's parents encouraged her to pursue an education.
In November 2009, they got to see Daisy honored along with other outstanding first-generation college students at the "Realizing the Dream" banquet sponsored by Independent Colleges of Indiana, where she received a $2,000 grant in recognition of her superior academic performance and leadership.
After graduating in 2012, Daisy landed her first job as a teacher in the Goshen school system.
"I want to become a good teacher who will influence kids and give them a good perspective that will let them like being in school," she said.