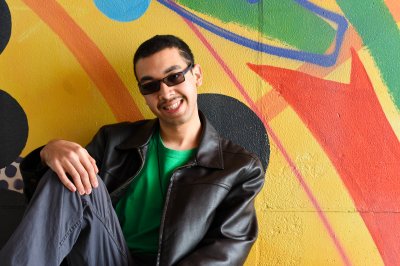 C.C. Lilford '20 is a film production and creative writing double major and theater minor from South Africa.
What do you like most about Goshen and why?
The diversity. Coming from such a distinct weird background, I've met very few other people whose experience I can connect to. But at Goshen, there are enough people with different experiences that I kind of feel connected and united in the fact we're all so different.
Why did you choose Goshen?
It was a combination of things. I wanted a liberal arts education because I want to be a writer. You get that nice variety of studies and you get to explore different things, even if it's just to try something for a bit. I personally am a big fan of the American midwest. I've lived in desert climates and tropical climates, all my friends think I'm insane, but I love the rain, the snow, I like the cold.
What's it like being at a small college so far from home?
It's a little bit intimidating because with all the moving around, my family is one constant I've had in my life. But I like to think that I've adapted to that. But what I like about the small college is that you have a very personal connection with professors and not just the ones related to your major and minor. Also, everything in walking distances.
How have you found the transition to college from homeschool?
With homeschooling you're very accountable for your own work and Goshen's a little bit like that, so it's been a smooth transition for me. Your professors keep track of you to make sure that you're not completely off the rails, but they still trust you and trust that you're responsible for your own work. But dealing with other people is a weird one. From moving around so much and going from a lot of isolation except for family, to moving into this environment where there's just people. Having to negotiate personal relationship and catching up to everyone's level has been interesting and it's been nice.
What do you hope to do with your degree?
I want be a writer. Since I was small I had an interest in storytelling in general and my parents have always encouraged that. I want to tell stories and my plan is to train myself widely enough so that I can always write. It doesn't matter if I'm writing a play or a novel, it's being skilled enough to write for different platforms and mediums.
What has been some of your favorite experience at Goshen College so far?
Going to see one of the [on-campus] concerts. Live music is something I enjoy but not something that I've been able to get much experience with, so getting that surreal experience of hearing this beautiful music, but then also recognizing classmates. Any time any of the goofier performing stuff happens [open-mic night, battle of the air-bands, etc.] is also fun. I used to be really shy, so putting myself out there, being a goof and having people responding positively is a good experience and I enjoyed that. Also, this semester some friends threw me a surprise birthday party, I got kind of emotional.
What advice would you give a prospective student?
Be accountable for your own work. Your teachers will treat you like adults and you need to live up to that. But then on the other side of the spectrum you need to get out, you need to make friends, you need to be prepared to put yourself out there. There's nothing to lose, be yourself, have fun, be a goof, be serious at times, just be you.
What surprised you about Goshen College?
The one thing that has pleasantly surprised me is that this college is not a bubble, you get to Goshen and there is a great mix of students. The diversity that I did find here was something that was unexpected, it was on a scale that I hadn't really seen before. It does break people out of their zones. But also, the emphasis on making sure that the students do have work post-college and while they're in college that they're making those connections. We're not this little college in the middle of nowhere. There's a lot of opportunities, if you put yourself out there, to set yourself up for post-college.