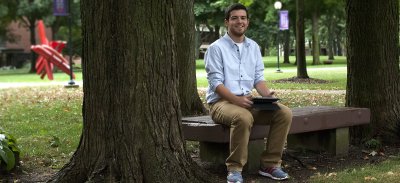 Brian Sutter is a 2016 physics and informatics double major graduate. Despite facing pressure to attend an Ivy League school, Brian knew Goshen was the place where he wanted to be. So far, it has exceeded all of his expectations.
Why did you choose Goshen College?
I applied to and was accepted into the engineering programs at Northwestern and the Colorado School of Mines, but neither school had the charm, values and intentional global focus that Goshen had. Goshen was no longer simply the college of my brother, parents or grandparents, and it was no longer just that Mennonite college nearby. It was the college that would challenge me and shape me.
What makes Goshen different?
The personal relationships you can develop with your professors sets Goshen apart from other colleges. My professors are extremely knowledgeable and keep up with the cutting edge of their fields. Classes are small, and the professors know your name and make an effort to get to know you. Personally, I've attended meals at the homes of some of my professors, which is a fairly common occurrence at Goshen.
What should every Goshen College student know?
Every student should experience the genuine, refreshing conversations that occur over steaming cups of coffee at the Electric Brew downtown and the spontaneity of a late-night milkshake run with friends. And, of course, nothing quite beats a game of Ultimate Frisbee on the KMY lawn on a beautiful spring day in May term.
What do you hope to do with your degree?
I have considered careers as an engineer, computer programmer, entrepreneur or business administrator, among others. Regardless of what career I choose, I know Goshen will help me identify my gifts and provide me with the unique skills necessary to improve the world around me.