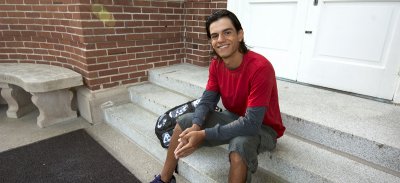 Armando Nunez was a student with two chief interests: American Sign Language and tennis. When he came to Goshen to pursue both, he learned quickly that GC students learn much more outside of their major and sport. He graduated in 2016.
Why did you choose Goshen College?
The reason I chose Goshen was because this college is one of the few that offers both athletics and ASL in the same institution.
What opportunities have you had here?
One opportunity that I have found is that students are encouraged to try classes that have nothing to do with their majors, simply for the experience and the knowledge gained through the course.
What should every GC student experience?
Every single Goshen College student should take at least one ASL course, just because of how awesome they are! ASL has been my favorite subject because of how unique and interesting it is to learn the language—as well as to become a part of their culture through Deaf social events.
What do you hope to do with your degree?
After I earn my degree, I would like to teach American Sign Language to either hearing or Deaf students.
What makes Goshen different?
I have always loved how extremely friendly people in Goshen. It's always nice to have a complete stranger smile and say hello to you as you pass them. The men's tennis team has also been my strongest experience with the diversity of GC. The majority of our players are international, so I have been introduced to new languages, customs and even foods.