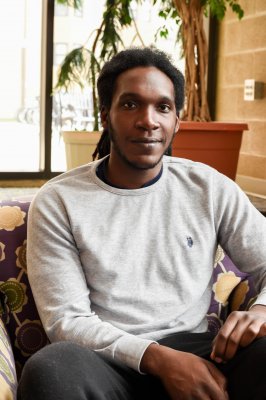 Ari Benjamin '19 is a physical education major and psychology minor from Castara, Trinidad and Tobago. He transferred from Lassen College, a community college in northern California in 2016. He is member of the Goshen College men's soccer team, track team, Black Student Union and International Student Union.
What do you like most about Goshen and why?
I mostly like the athletics here at Goshen and the small environment. It's more personal, you can connect with profs and others at a more personal level.
Why did you choose Goshen?
Aside from the the soccer program, the location. I've never been to this part of America, so I thought it would be a different experience for me and I thought the campus looked really beautiful.
What's it like being an international student at Goshen?
It has its ups and downs. Sometimes it's a bit challenging to relate to certain things and people who are from around her because they don't understand you at a level that your own home folks would understand. But it also has benefits to it. People treat you differently in a positive way.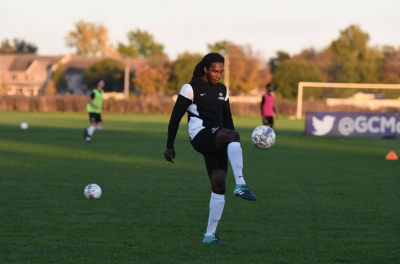 How did you decide on your major and minor?
I've always been good at physical education and relating content to the body and relating it back to sports. Being an athlete myself, when I do certain actions I learn about how that action is done is class and it really sticks with me. With psychology, I've always been interested in the mental side of it. Everything for me is related it back to sports
What do you hope to do with your degree?
Become a sports psychologist.
What it's like being a soccer and track athlete at GC?
It is definitely tough, it's a lot of responsibility and it really tests how well you can manage your time and how responsible you are. It's not like you're just finished after your sport and you have a whole semester you can just focus on academics, it's all year round. It taught me how to balance my time and allowed me to get to know more athletes.
What is your favorite experience at GC so far?
Scoring my first goal and I would also say my first home game. Just seeing everyone come out and the atmosphere here. I really enjoy the support from the entire school.
What's it like being so far away from home?
I don't think I'd be able to survive being so far away from home by myself without the friends I have now. I just can't see myself being here without them. They're 80 percent of the reason I'm not homesick.
What advice would you give a prospective student?
The commitment of being an athlete is something that some students who aren't athletes won't understand about time management and being tired all the time. It's going to be tough but just understand why you're in a sport and the love for it and you'll be able to make it through. Also, don't be intimidated by the people here at Goshen or to join in because everyone here is friendly. Goshen is a nice place.
What surprised you about Goshen College?
The campus is really beautiful and well kept. And seeing a horse and buggy, that was pretty surprising.