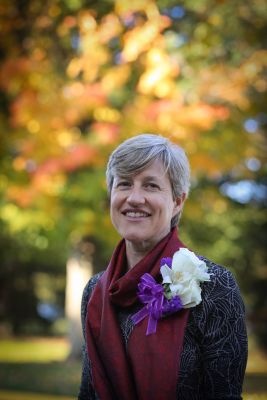 Aletha Stahl '89 is a professor of French and francophone studies at Earlham College in Richmond, Indiana, as well as a registered yoga instructor and former Goshen College award-winning runner.
Stahl was a founding member of GC's first full-season women's cross country team, and her prowess played a large role in growing the program. She was a two-time NAIA All-American Scholar-Athlete and GC's first national qualifier in both women's cross country and track and field, and remained undefeated among runners from NAIA District 21 during her senior year, winning the conference and district championship.
After graduating from Goshen College in 1989 with bachelor's degrees in English and French, Stahl went on to complete her master's degree and doctorate at the University of Iowa.
Now a professor at Earlham College, Stahl brings a sensibility for social justice to the study of translation, creole languages, literature and film. Her current academic focus is on the way that virtual worlds and simulations may enhance education. Stahl writes on her website, "I am passionate about language and am particularly fascinated by the relationship between language and social justice."
She has continued in her love for physical activity by becoming a registered yoga teacher. After long pondering how language learning connects with the contemplative and physical aspects of yoga, she developed a special basic French course, pairing classroom French instruction with yoga classes in French.
In her free time, Stahl volunteers on a committee for three Quaker Meetings that offers a youth group for local young people. She lives in Richmond, Indiana, with her husband Neal Baker and their son Luc.