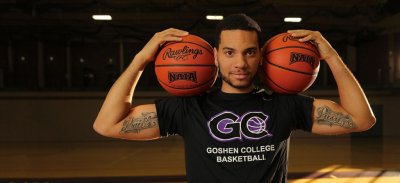 Kyle Capps graduated from Goshen College in 2014 with an accounting degree. Before graduating, he already had job offers in both Detroit and Chicago.
What makes Goshen College different?
Goshen College thinks its own way; there is always a different view from a GC person. The biggest difference is that there is a more of a family feel, since the teacher and student ratio is smaller than most.
Why did you choose Goshen?
The friendly people. The first time I was on campus, I was just overwhelmed by how nice everyone was. What also made me choose Goshen is how well others said it prepares you for the job world.
In the future?
I already have a job waiting in the Detroit or Chicago areas. I also hope I can coach kids at basketball and track on the side. If that doesn't happen, then I am looking forward to getting a coaching job.
What opportunities have you had here?
I joined many different clubs over my career at Goshen—I've been part of Men of S.W.A.G. (Serving with All Gifts, an all-male group that helps out in the community), MAO Corps (an organization that supports a multicultural community) and Black Student Union. I held three different jobs and I was part of the men's basketball and track and field programs. They taught me how to balance many different activities and stay focused at the same time.
What should every GC student experience?
They must experience going to Kick-Off… it is a really great talent show. And attending sporting events—the Goshen College soccer atmosphere is amazing to be part of, and the men's basketball purple and white night is a crazy fun way to kick off the season.