Vol. 46 No.1


The longest running departmental newsletter on campus.
Greetings:
Hello friends! Welcome to another edition of the psychology department newsletter. For a long time, Hannah Friesen, a 2018 Goshen College graduate, oversaw this newsletter. However, change is a constant in life and the opportunity now falls to us. This has been a very exciting semester for the department, and we hope to keep the excitement going into the second semester!
-Irving Suarez and Jonah Hochstetler
Psychology Department Assistants
Psychology Forum Speakers:
This semester the GC Psychology Department was happy to welcome three guest speakers to our psych forums.
Dr. Gregory Koop
Our first guest speaker of the semester was Goshen College alum Dr. Greg Koop who came to present on his research. Currently, a psychology professor at Eastern Mennonite University in Virginia, his research is largely centered around decision making, judgment, and recognition memory. His presentation focused largely around effective outsourcing in recognition memory.
Angela Schwartz
Also, a Goshen College graduate, Angela Schwartz now works as the school social worker at Goshen Middle School. Despite graduating with a degree in social work, she worked very closely with psychology in Florida and Indiana before taking a job for Goshen Community Schools. Her experience helped to give students more ideas for their own future careers. She jokingly said that "every psychologist and social worker will work at Oaklawn at some point." There is a lot of truth behind these words, and her experience there will help to guide students looking for internships and job opportunities.
Tracy Byler
Tracy Byler works as a Child Life Specialist in the Beacon Children's Hospital in South Bend. This is a newer career related to psychology in the healthcare industry. During her presentation, she highlighted important classes, such as Medical Terminology and Anatomy classes, to take and experiences to look for in order to be well prepared in this particular field.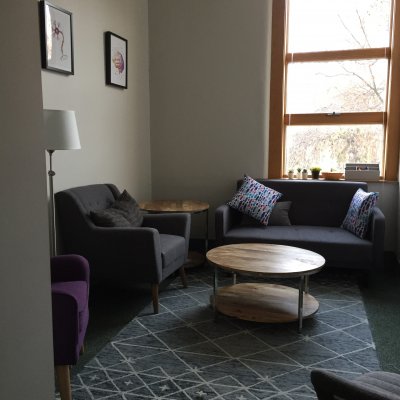 The newly renovated psychology reading room.
Psychology Reading Room:
The psychology reading room, located in the science center, has never been an enjoyable place to be. Until this year, it looked more like a glorified closet with a table and chairs. Now, thanks to the work of professors Julie Reese and Amanda Sensenig, it has become a room people actually want to be in.
Last year Julie and Amanda applied for a faculty renewal grant. This program was created as a way to allow professors to do something to get them excited and renewed. They traveled to the Institute on Learning and the Brain in Boston. After a week of workshops, they came back to Goshen College to apply what they learned.
After being awarded another small grant through the same program, Julie and Amanda worked to create a welcoming place for students to belong. With new (and very comfortable) chairs, tables, and cookies made regularly by Julie, this room has become a popular study area in the science center. After all, welcoming and homey space is the perfect area to settle in and get started on a paper.
In the Research:
With 2019 reaching its end, not only do we welcome a new year, but we are also welcoming a new decade. So, with that in mind, we decided to look at, arguably, one of the most influential studies of the decade focusing on power posing.
In a study conducted by Amy Cuddy et al., 2010, it was claimed nonverbal expressions of power impact people's confidence level. They tested this by having participants either adopt a power-pose or a low-power pose for two minutes. They were then placed into an intense interview and found the ones who had held a power-pose for two minutes did significantly better during their interview. The primary focus for their results was then on power-poses (stances that are associated with dominance and power) greatly increase a person's confidence after adopting a power pose for 2 minutes.
While the validity of the study has been a constant debate among social psychologists, Amy Cuddy continues to defend her work. In 2012 she had a TED talk covering the study and in 2015 she published a book called "Presence" relating to the subject. So, the next time you find yourself needing an extra boost of confidence, try a power-pose and see if it helps out!
Reference: 
Carney, D. R., Cuddy, A. J. C., & Yap, A. J. (2010). Power posing: Brief nonverbal displays affect             neuroendocrine levels and risk tolerance. Psychological Science, 21(10), 1363-                                       1368.  doi.org.ezproxy.goshen.edu/10.1177/0956797610383437