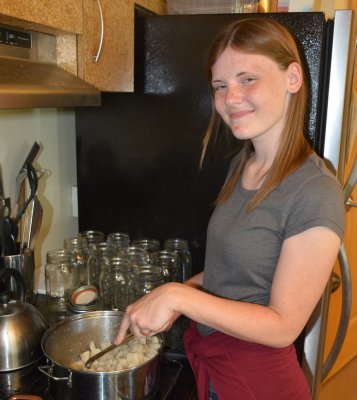 Georgia Ringle, a senior from Burlington, Mich., came to Goshen College's sustainable food systems major by way of a culinary program. Georgia attended a technical high school where she received training in culinary skills and chose her first college with this in mind. She soon realized that the time pressure of churning out meals every day was not something she enjoyed. After earning an associate's degree at Lake Michigan College, Georgia transferred to Goshen College to study sustainable food systems.
"I also really love animals, so it was a way to combine some passions," Georgia adds. Her bucket list includes raising sheep as a hobby.
Beyond small family farms
Georgia's goal is to become a sustainability consultant for large industrial agriculture operations. While sustainable practices are usually associated with small family farms, she sees ways that industrial agriculture can make choices that are healthier for people and the planet as well.
This idea grew out of the capstone project Georgia completed for her sustainable food systems major. She created a sustainability plan for Cornwell's Turkeyville, a business not far from her hometown that is part turkey farm, part dinner theater and part RV resort. Her plan incorporated a a greenhouse into the operation. She also suggested LED lighting, using shredded boxes for packing material and substituting bamboo napkins for napkins made from wood.
Field trips provide windows to the future
The centerpiece of the sustainable food systems major is the Agroecology Summer Intensive (ASI), where students live, study and work at the Merry Lea Sustainable Farm. Students also explore the regional food system through weekly field trips. When Georgia was part of the ASI in 2019, she had the chance to tour Miller Poultry, which processes chickens from the egg to the grocery store.
"That was interesting to me because it gave me insights that could be useful in my career field," Georgia recalls. Field trips like this one enabled her to imagine herself working as a corporate consultant.
On an ASI visit to Fort Wayne, Georgia visited a food pantry that made both fresh produce and meat available to its clientele. This inspired her, since she knew that many pantries need to rely on canned goods. Georgia would also enjoy helping nonprofits find ways to make high quality food available to all.
While many seniors are anxious about what their next steps might be, Georgia seems unperturbed. She likes open-ended course assignments that invite students to pursue their own interests. Crafting a future shouldn't be too different.
"I'll see where the wind takes me," she says.