Living with a pacemaker: An inside perspective by athlete Ken Pletcher
Students taking Exercise Physiology and Human Pathophysiology courses this spring got an insiders perspective on maintaining an active lifestyle while living with a pacemaker. Former Maple Leaf athletic director and physical education professor, Ken Pletcher began by sharing his family heart history and some highlights of his athletic career as a basketball player and runner. His most remarkable accomplishments include running a 50 mile trail race and completing a Grand Canyon rim to rim run with his two sons.
Pletcher described his need for a pacemaker and shared experiences with three different models of pacemakers. After several issues with previous pacemakers, Pletcher was the first person in Indiana to receive a leadless pacemaker, the size of a vitamin pill, which is surgically attached to the inner heart muscle wall. The Micra pacemaker, made by Medtronics, was approved by the FDA in April 2016. Pletcher noted he is able to get by without a two lead model at this point but alluded to the possibility he might need a two lead model in the future. Much of Pletcher's talk focused on the struggles associated with fine tuning these devices to react appropriately to the intensity of exercise he desires as an athlete and the recovery period needed afterward. An increasing number of pacemaker patients are athletes who want to continue intense exercise post surgery. Physicians and technicians are most interested in preserving life and therefore take a more conservative approach in the settings than some of these athletes would prefer, based on levels of performance they want to achieve. Pletcher was able to give students in these classes a chance to reflect on the importance of considering the quality of life an athlete desires outside of the examination room.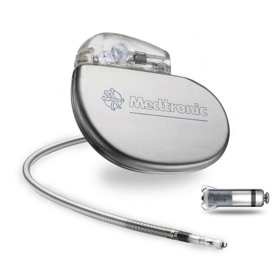 Photo of a traditional  and  a Micra pacemaker:  https://www.medtronic.com/content/dam/medtronic-com/us-en/newsroom/photography/corporate/news-traditional_pacemaker_vs_micra-square.jpg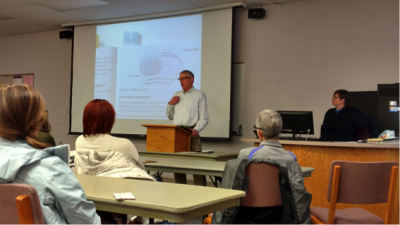 Photos by Samantha Emmart
Submitted with approval from Ken Pletcher