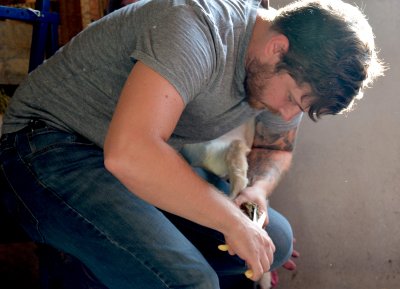 What do you do when the things you were really good at are no longer who you are?
This is the question that brought Stephan Powless, Lagro, Ind., to Goshen College. Unlike most undergraduates, Stephan is a 32-year-old father of three with an eight-year career in the military behind him. He's been in combat in Iraq and in management at General Motors. He's fulfilled his childhood dream of becoming a soldier and demonstrated his earning power. The path forward is unclear, but it is not more of the same.
"Goshen College is a place where someone who doesn't know what they want to do can try things out," Stephan says. His veteran's benefits have given him the freedom to choose courses that interest him and ignore assignments he doesn't value. He plans on an interdisciplinary major and a stint as a stay-at-home dad, pursuing education as a spiritual journey, not just a path to a career.
Stephan is spending the summer of 2018 in Merry Lea's Agroecology Summer Intensive (ASI) because of his interest in gardening and homesteading. He already has a 2,000 square foot garden and hopes to expand it.
Gardening as therapy
"Gardening is therapeutic for a lot of veterans," Stephan says. He knows many fellow veterans who find caring for plants relaxing and appreciate the chance to support their families and communities in a new way. The United States Department of Agriculture recognizes this fact and offers programs to help Veterans transition to farming. The nonprofit, Farmer Veteran Coalition, offers a certification label, Homegrown by Heroes, and has over a thousand certified-producers. In the future, Stephan hopes to sell some of his food via H.O.F.F. Produce, a veteran-owned farmer's market in Huntington, Ind.
For Stephan's purposes, the hands-on parts of the ASI are the most useful. In the animal husbandry course, for example, students built animal shelters, gained practice trimming goat hooves and compared two breeds of chickens from chick to butchering. He's also had the chance to use a variety of small farm equipment and get a sense of what's worth buying and what isn't.
ASI students spend a day each week on field trips. Stephan has enjoyed seeing a broad spectrum of agriculture, from young urban farmers to a multimillion-dollar seed industry. The day after each visit, the class processes their responses. These small group discussions, where individuals have the freedom to share their views have been some of Stephan's best ASI experiences. Even a group of just five students includes considerable diversity.
"As a combat veteran, some of my past values and experiences don't fit Goshen's headline values. At first glance, they can clash, but if you and the professors are willing to dialog, you can come to a great understanding of each other," Stephan says.
Actually, Stephan's contemplative approach to gardening and his desire to serve his community sound very compatible with the school's values. The town of Lagro where his family lives has suffered the loss of a number of businesses. Stephan would love to turn these abandoned lots into pollinator strips and raise honeybees. Listening to him describe his approach to industrial blight, one can already see the monarda in bloom, the buzzing hives and the honey dripping into jars.