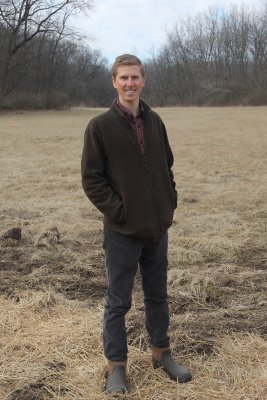 Stephan Rauh wants to be part of a movement toward greater health–community health, individual health and ecosystem health. That's why he accepted a position as production farmer at Hungry World Farm in Tiskilwa, Ill.
Hungry World Farm aims "to educate and inspire people about healthy food, fields and bodies while caring for the land." The new nonprofit is not just a place where people can learn about market farming. Stephan and other leaders hope to foster awareness of the hungers of life—food hunger, physical hunger, hunger for community, spiritual hunger, hungers for finding purpose and self discovery, and hunger to participate in something beyond oneself.
"We've all got many hungers. Hungry World Farm can provide space where we can reflect on these hungers," Stephan said.
First Steps
Stephan came to his position at Hungry World Farm (HWF) by way of Goshen College's Agroecology Summer Intensive (ASI). A Wheaton College graduate, Stephan took the summer program for a certificate rather than for academic credit.
"Stephan came to Merry Lea for the summer with an eagerness to learn and to prepare for further opportunities to be of service, to share his faith with others, and to farm," recalls Jon Zirkle who was the interim director of the ASI at the time.
The fall after completing the ASI, Stephan interned at Clay Bottom Farm (Goshen, Ind.) before returning home to central Illinois. His first experience farming independently took place on land owned by a couple that was transitioning out of farming. In early 2017, Stephan began growing produce, herbs and cut flowers on about one acre. He sold his produce at a farmers' market in Peoria, taking on about ten shareholders as Community Supported Agriculture (CSA) members and selling to restaurants.
Long Term Goals
As much as this first year of farming on his own was a success, Stephan knew he wanted more connection to community than farming solo offered. When an opportunity at Hungry World Farm emerged, Stephan realized it would provide a way for him to be part of a movement and an emerging non-profit while still growing food.
In his role as a production farmer, Stephan's days are full of both physical and mental work. In the spring, he's starting seeds, propagating plants, pruning berries, organizing tools and recruiting interns. He also works with the broader HWF team on joint projects such as constructing a high tunnel, hosting farm learning days, and making land-use decisions.
This year, the team at Hungry World Farm plans to grow and market vegetables, herbs and some cut flowers. Blueberry, raspberry and blackberry plants are already established.
"We have plans to grow around an acre of popcorn this year, along with some pumpkins and winter squashes, and we also plan to have some demonstration plots with an assortment of heritage grains. Certified organic corn will be grown on a large portion of the tillable property, and we are establishing pasture mixes on an additional 10 acres or so," Stephan explains. Long-term goals include a strong diversity of perennial and annual crops.
Whatever he's growing, Stephan has a larger vision for a place where people can grow toward closer communion with God and one another in a setting rich in many life forms.
"I trust that, as visitors, volunteers, and interns contribute… we will come to understand in new ways how God satisfies our hungers," he says.
Hungry World Farm is seeking interns on an ongoing basis. Internships range from two months to a year in length. To inquire, email stephan@hungryworldfarm.com or complete an application online.