End of Winter: looking back, looking forward
As winter comes to a close, we at Merry Lea are experiencing more transition than usual as the winds of March blow in.   Big changes–positive changes–are ahead for Merry Lea Sustainable Farm and our residential programs.  Given the growing attention to food and sustainability issues in our world, Goshen College has created exciting new ways to engage students, families, and the visiting public on these topics after approving new majors, some of which give new emphasis to residential programs at Merry Lea.  These new majors include Sustainability Studies, Sustainable Food Systems, and Sustainability Management.  More can be found on the Goshen College website.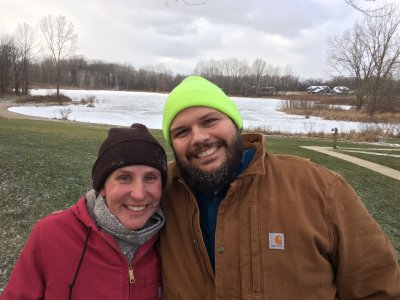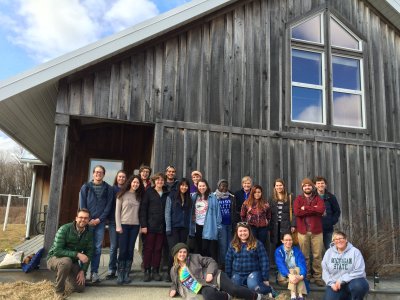 A major moment to remember for the first quarter of 2017 has been the arrival of John and Ruth Mischler, new staff members on our team (pictured above).  John is serving as our new Director of Agroecology and Ruth is an Associate Professor in Sustainable Food Systems where she will teach in the Agroecology Summer Intensive as well as helpwith Merry Lea Sustainable Farm.  We are thrilled to have new leaders with passion, vision, and impressive gifts.  Their two wonderful children come to visit the office on occasion, giving cheer to our work environment and new energy to Rieth Village.  The kids are going to love the farm when spring arrives!
Looking back at 2016, we have much to remember.  Kate Friesen-Kempf served as Farm Manager for much of the year, enabling Merry Lea Sustainable Farm to offer 26 CSA (community supported agriculture) shares to Goshen College faculty, staff, students, and community members.  Evidence of her work and genuine spirit are all around us on the farm.  Kate has recently transitioned to work in Goshen and is making plans for her next steps.  Meanwhile, Ellie Schertz has accepted the position as Assistant Farm Manager, and is living into the rhythm of spring here at the farm.  Ellie has worked seasonally with the farm in several capacities since 2014 and we're thrilled to have her join the team as staff.  As a farm team, we will again offer the CSA share program this year with a focus on the Goshen College community of students, staff, and faculty.  It's an honor to serve the community through good and healthy food.
In addition to staff changes, March continues with lots of planning for summer and fall programs, research, and preparing our farm fields.  The greenhouse hums (a quiet hum!) with germinating trays of onions, broccoli, leeks, basil, and more, as is typical this time of year.  Soon we will replant a number of trees in our Woody Perennial Polyculture experiment field, adding pecan and northern apricot in addition to replacing pawpaw, pear, apple, and peach trees that died in the past two years.  Holes were dug using a tree auger on a snowy March morning where the temp was about 20F, making our hands freezing that day!  The new trees arrive at the end of the month, and we may be seeking volunteers for the planting day.  Speak now if you are interested to help!   And to usher in spring, our pigs and chickens have now returned, just in time for the Sustainable Living Skills (see picture above from the 2016 class) course coming up this weekend, led by Professor Joel Pontius.
Many other projects are under way as well.  Our farm has been growing sorghum for years, making sorghum syrup by boiling down the squeezed cane juices using evaporator pans.  But in 2017, we will be partnering with neighbor farms to cooperatively grow more sorghum, share processing equipment, and trial varieties of seed on different soil types thanks to a SARE grant that was just approved.  This is exciting!  We are also introducing a few cattle to graze in our Woody Perennial Polyculture field and planting some strips of heirloom and Native American grain and legume varieties.  What a season this will be!
We look forward to the second half March, still open to applicants in our Agroecology Summer Intensive and Sustainability Leadership Semesters (deadline March 31), and eagerly awaiting the spring that is to come.  We welcome folks to come visit, inquire about volunteering (contact Maria Tice at mariact@goshen.edu), and do please make a point to sign up for public programs.
Enjoy this season of transition.