Creating Global Change, History Major Samita Thapa ('13)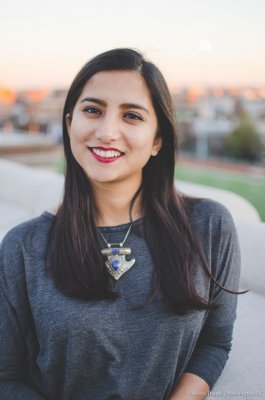 1. What is your name, where you are from, and what year did you graduate from GC?
Samita Thapa, from Nepal, and I graduated in December 2013.
2. What interested you in becoming a history major?
I took my first World History class to fulfill my basic requirements, but immediately got very interested and absorbed in the class. I loved the readings and especially writing papers. I also definitely liked the fact that I had the freedom to take the history courses I was interested in, and not have to go through a certain prerequisite structure.
3. What was your history research topic? What made you select this topic?
I wrote my thesis paper on the history of a Christian development organization (United Mission to Nepal) working in Nepal since 1950s. I explored how a Christian organization was able to do commendable development work in a country that was a Hindu country till 2006.
I knew I wanted my research to be related to Nepal in some way and since my dad had worked for the organization in Nepal, and I had connections in Goshen who worked for that organization in the past, I knew I had a good pool of sources to interview and access to the organization's archives.
4. What have you done leading up to the work you do today?
After graduating from Goshen, I moved to Washington, D.C. where I interned for a refugee resettlement organization for a few months, till joining a social enterprise that developed online courses to train international development professionals and organizations to use technology for social good. In 2015, I was also a part of the Atlas Corps Fellowship program in D.C. as part of the White House Emerging Global Leaders Initiative. I returned to Nepal at the end of 2015 and have had the chance to do part-time research work for the only leadership development organization in Nepal for women, Women LEAD and help write articles for a mobile health company, Medic Mobile till landing at Accountability Lab.
5. What do you do now?
I currently work with Accountability Lab in Nepal as a resident for their accountability incubator where I help select and put together a training program to help youth with innovative ideas to build a more accountable society. Along with that role, I am actively helping develop and monitor other programs that help connect Nepali citizens with relevant and up to date information on earthquake reconstruction and migration in order to close feedback loops. I also work closely with our team that manages Integrity Idol Nepal, a reality TV show that allows the public to nominate and vote for the most honest public servant as a way to start a debate about honesty and integrity in the public service.
6. In the work you do today, how does your history education influence into what you are doing today? 
In my work today, I write a lot and have to think critically about the programs we are designing and implementing. My education as a history major has left me with a highly polished writing skills and critical thinking ability that is needed in my daily work. Working in governance and development in Nepal, it can be easy to think of a developing country like mine as a passive recipient of aid, but I will always look at the international development industry — a sector I am very interested in — with a critical eye, thanks to my classes and conversations with Jan Bender Shetler.
7. Any words of encouragement to fellow GC history undergrads?
You have no idea how many times, I, a South Asian female had to justify pursuing a history degree. But I don't regret it at all. Graduating as a history major doesn't mean your only option is to work in an archive or in a museum. Your options are diverse and a history major, so take the courses that interest you the most. To the international students who are history majors, make sure you take the History of the South West may term course!