Mischler Duo to Lead Agroecology Efforts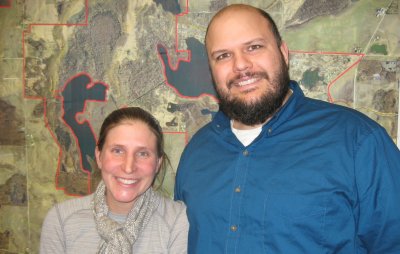 In early January, John and Ruth Mischler joined the Merry Lea Team. The couple shares one position, with John as the director of agroecology and Ruth working quarter time as an assistant professor in the Sustainability and Environmental Education Department.
The two are delighted to be able to work at the same place. "Working together at Merry Lea was years in the making for us," John says.
When they met, Ruth was studying organic cover cropping systems and John was studying ice cores from Antarctica. While these fields seem different, much of what drew the couple together was a sense of shared purpose and the desire to serve the greater good. They envisioned ways that their professional lives could complement each other.
John Mischler
John and Ruth are excited to build on the foundation that Dale Hess laid during the first ten years of Merry Lea's agroecology program. They also bring new areas of expertise. John is a biogeochemist by training. His undergraduate degree is in physics and geology, and as a master's student, he studied the geosciences. His doctoral work focused on agriculturally derived nutrient loading of ecosystems and the implications this has for human health and environmental sustainability. While agriculture is a part of the earth sciences, it was partly John's relationship with Ruth that catalyzed his interest in the connection between agriculture and climate change.
John brings a penchant for big picture thinking to his position. "What is lacking in education today is a systems understanding of the interconnectedness of all things. We need to understand the whole system in order to successfully manage the resources we have," he says. For John, agroecology involves knowledge of not only the soils in the garden and their surrounding ecosystems, but also phosphorus cycling, greenhouse gases and the broader climate.
Ruth Mischler
Ruth studied environmental science as an undergraduate student. Her interest in agriculture first blossomed after a pivotal summer experience working at the World Hunger Relief Farm in Waco, Texas. She went on to do a master's degree in agronomy with a focus on cover crop research.
Ruth also loves working with animals. In high school, she shadowed a veterinarian long enough to learn that she did not want to work with sick animals. Her interest is in keeping animals healthy. Hands-on experience at a goat dairy has given her a special fondness for goats. She hopes to add goats and sheep to Merry Lea's barnyard menagerie of poultry and pigs.
Ruth's background has prepared her to consider the uniqueness of each farming situation. During her time as a Fulbright scholar in Zambia, she researched chemical versus traditional strategies for growing sweet potatoes. There, the fact that some weeds were a food source was a factor. You can't eat pigweed if you've sprayed it. Likewise, the time required to properly clean milk hoses might make hand-milking the sensible choice for a small dairy but not for a large one.
The agroecology position that John and Ruth share includes four areas: teaching, hands-on farming, research and community outreach. Ruth will teach the Cropping Systems course in the Agroecology Summer Intensive this summer and will develop a course in animal husbandry for 2018. She will also be the one most involved in the nuts and bolts of the Merry Lea Sustainable Farm along with Farm Manager Jon Zirkle. Ruth enjoys apprenticeship learning in outdoor settings and looks forward to guiding students as they work beside her in the gardens.
As the director of agroecology, John will continue developing the new Food Systems major and recruiting students for it. He will also take the lead on research and mentoring student researchers. He wants to study topics that can benefit both large and small farmers, and hopes to attract researchers from other institutions as well.
John is currently teaching a new course on the Goshen College campus entitled Earth Science, Meteorology and Climate. In coming years, it will be a requirement for the new climate change track in Goshen College's environmental science major.
The couple's community outreach role will take shape over time, but it will certainly include getting to know local farmers and the local sustainable farming scene. It could also include providing services for nutrient management.
Ruth and John have two children, ages four and one. They plan to build a home near Merry Lea and become part of the community.