Brad Yoder '63 named Indiana Social Worker of the Year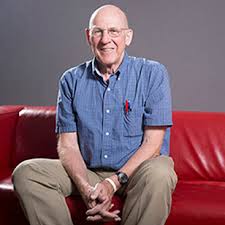 This article originally appeared in Inside Indiana Business
Brad Yoder, a professor of sociology and social work at Manchester University, has been named Indiana Social Worker of the Year by the National Association of Social Workers.
"It is a well-deserved honor that signifies a lifetime of excellence in his profession," said Barb Burdge, Social Work Program director and field instruction coordinator at the University. She was among those nominating him for the honor, citing his total commitment to serving others.
She said Yoder "embodies social work's mission and values" and helps students create their own vision of what social work should be.
Yoder is in his 37th year of teaching at Manchester. He helped start the local chapter of Habitat for Humanity 29 years ago and has led students on spring break Habitat projects 27 times. An avid runner, he also has served as an assistant cross country and track and field coach for nearly 27 years.
He said he's been teaching so long, he is now seeing students who are the children of people he once taught or coached.
"I consider teaching to be a sacred privilege, and coaching is a special kind of teaching," Yoder said. The North Manchester resident said education is not pouring information into someone's head, "it's developing the whole person."
Burdge said that Yoder himself continues to learn, auditing a course at Manchester almost every semester.
His many honors include Faculty Excellence Award for Service at Manchester, Secrist scholarships for peace endeavors and Region 3 (northeast Indiana) Social Worker of the Year. Three times in three decades, he has been president of the Indiana Association of Social Work Education.
"I greatly appreciate the creative and supportive colleagues and atmosphere at Manchester University that nourishes and supports what I do," Yoder said.
Outside the classroom, Yoder leads field trips to visit criminal justice institutions and programs for youths and adults, is active in the Manchester Church of the Brethren, travels with students to Jamaica every other year to study international social work, and helps to lead anti-racism workshops with Goshen College and Manchester students each year.
"Education is not about checking off a list of requirements," he said. "At Manchester, we try to teach people to prepare for a lifetime."
Yoder will receive the Indiana Social Worker of the Year honor at the NASW state conference in Indianapolis on Sept. 29.
"There are hundreds, even thousands, of social workers in Indiana who deserve to be Social Worker of the Year," he said. "They are involved in courageous, sometimes difficult work with people who are facing sometimes almost unbelievable challenges and problems."
He also appreciates his social work colleagues around the world, adding that being part of the National Association of Social Workers delegation to Russia in 2010 was a "powerful and moving experience."
Yoder tries to bring six things into everything he does: faith, learning, service, body, mind, and spirit. His goal is to see a world in which every person has:
• Enough clean water to drink.
• Enough nutritious food to eat, mostly grown in one's own country.
• Education, with the opportunity to learn to read and write in one's own language.
• Adequate shelter.
• Access to health care.
• Meaningful work.
"I think the most important organization working toward those goals is the United Nations," he said, noting that Manchester has a close connection to the U.N.'s early days. Andrew Cordier, who graduated from Manchester in 1922 and later taught there, helped organize the United Nations. The main auditorium at the North Manchester campus is named after Cordier, who was also president of Columbia University.
Yoder received his bachelor's degree in sociology from Goshen College in 1963, his master's degree in social work from Indiana University-Purdue University Indianapolis in 1965 and his doctorate in 1979 from The Ohio State University.
Manchester University, with campuses in North Manchester and Fort Wayne, Ind., offers more than 60 areas of academic study to 1,400 students in undergraduate programs, a Master of Athletic Training and a four-year professional Doctor of Pharmacy. Learn more about the private, northern Indiana school at www.manchester.edu.