2014 Winning Peace Plays Oct. 3-5
Goshen Peace Plays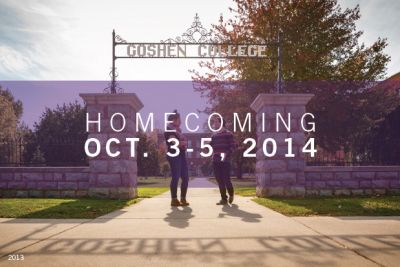 Winners of the 2014 Goshen Peace Play Contest will be presented October 3-5, 2014 in Umble Center Theater
1st Place, Out from Under with Mary by Chris Shaw Swanson, directed by Angel Reyes (sr.)
Winning playwright Chris Shaw Swanson of Westerville, OH, will be our guest for an audience talkback following each of the weekend's three performances.  Out From Under With Mary depicts the interaction between two women at an inner city methadone clinic.  There for a drug test, the suburban housewife Diane discovers that there's more to homeless multisyllabic-speaking Mary than meets the ear . . . and eye.  By presenting the possibility that two women from vastly different economic circumstances can find common ground, this play promotes the ideas of tolerance and peace through understanding.  Perhaps we are more alike than different.  Congratulations Chris!
2nd Place, I Scream, You Scream by Mattie Rydalch, directed by Martin Flowers (jr.)
The runner-up prize goes to Mattie Rydalch of Rexburg, ID.  In I Scream, You Scream, the character Sonny is the only child in a family of ice cream devotees.  They love ice cream so much that they've made it their religion. But Sonny has known since childhood that he is a balloon artist, and as soon as he graduates from high school he breaks this news to his parents with heartbreaking consequences. Congratulations Mattie!