Homecoming Biology Lecture – Dr. Daniel Lemons
4th Annual Biological Sciences Homecoming Luncheon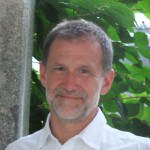 The Biology department is delighted to announce that Dr. Daniel Lemons ('74) has accepted our invitation to give the keynote address at the 2013 Annual Biological Sciences Homecoming Luncheon on Saturday October 5, 2013. Dr. Lemons is the CEO of Global Energy Model Institute and a Professor of Biology at CUNY.
Dr. Lemons graduated from Goshen College with a major in Biology in 1974.
His talk entitled, Global energy poverty is undermining health and development for billions, promises to be an innovative and interdisciplinary presentation linking inequities in access to energy with global healthcare challenges.
Biology alumni are cordially invited to the luncheon and lecture (12-2 p.m., Newcomer Center, 19). Reservations are required. Click here to register.