Luis Urrea to visit campus as part of S.A. Yoder Lecture Series
Luis Urrea to visit campus as part of S.A. Yoder Lecture Series
October 15, 10:00 AM Church-Chapel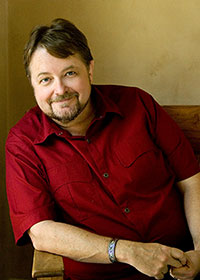 Luis Urrea is a Mexican-American poet, essayist and novelist. This convocation is the 2012 S. A. Yoder lecture, sponsored by the English department and CITL. The lecture is at 10:00 AM on October 15 in the Church-Chapel, and is free and open to the public.
Born in Tijuana, Mexico to a Mexican father and an American mother, Luis grew up in San Diego, California.  Like so many great writers, Luis got his start in literature writing poems to impress girls in junior high school. His early heroes were all rock stars, but not being especially musically gifted Luis chose to follow in the steps of his literary role models. A fanatical hunger for reading pushed him over the edge at the age of 13."I just had to do what my heroes were doing," he said.
As a young man Luis served as a relief worker amongst people living in the Tijuana garbage dumps prior to receiving a teaching Fellowship to Harvard University. "The border" has defined his life and colored much of his writing.  He once said that "the border is simply a metaphor that makes it easier for me to write about the things that separate people all over the world, even when they think there is no fence."
The author of 14 books, Luis Urrea has published extensively in many genres and has received many prestigious awards. The Devil's Highway, his 2004 non-fiction account of a group of Mexican immigrants lost in the Arizona desert, was a finalist for the Pulitzer Prize.
Luis Urrea attended the University of California at San Diego, earning an undergraduate degree in writing, and did his graduate studies at the University of Colorado-Boulder. Aside from his Fellowship at Harvard he has also taught at Massachusetts Bay Community College, the University of Colorado and the University of Louisiana-Lafayette. Luis is currently a professor of creative writing at the University of Illinois-Chicago. He lives with his wife Cindy and their youngest daughter in Naperville, Ill.
Contact: Ann Hostetler, phone 574-535-7469, email anneh@goshen.edu