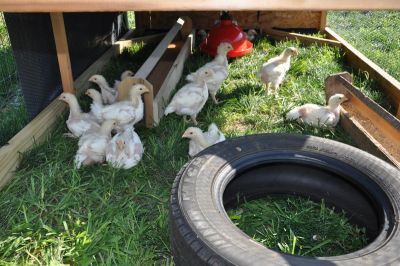 The agroecology students are gone! Not only do we miss their fun personalities, we also regret the absence of their capable hands for the many tasks at hand! The chickens made the move from the Farmstead barn to the Rieth Village chicken tractor. Sluiceway, the farm cat, found them fascinating to watch.
Weeding the gardens takes a back seat, for harvest is beginning in earnest. An unseasonably warm March followed by several hard frosts reduced, but did not eliminate, our grape crop and we were able to make and can Concord grape juice – during which time the kitchen smelled delicious! There was more broccoli and cauliflower than we could sell, so we froze a quantity that can be made available to residential students in the upcoming Sustainability Semester. The abundance of beautiful, multicolored heirloom tomatoes gave us opportunity to can tomatoes and tomato juice. David is not a big fan of eating tomatoes, but we'll see if we can change that! He does enjoy our delicious, heirloom Stowell's sweetcorn. The electric fence has kept raccoons out and the harvest was good! Gloriously-flavored ground cherries and tomatillos are ripening, and it is time to pull onions and dig white- and sweet potatoes.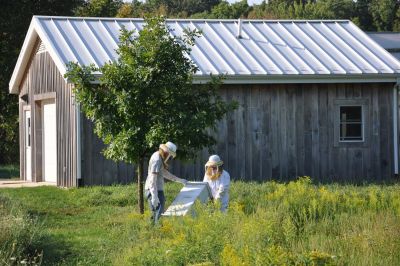 Andy Ammons came from campus early one morning and we moved the beehive from the Oshtemo Cottage lawn to the west end of the hoophouse. We inaugurated produce sales during the Goshen College faculty & staff retreat at Merry Lea in latter August and have resumed campus sales every Friday afternoon, bringing some of the beauty and good taste of Merry Lea's fresh produce to the campus community. Welcome, new students, and welcome back to returning upperclassmen!
– Posted by Dale Hess, Ecological Field Station Director and Associate Professor of Agroecology