A Week in July: Insects, Guest Speakers, and Agroecology at Merry Lea
Week seven of the ASI dawned warm and dry, the trademark of this summer. We attended to some of the familiar herbivores of our cucurbits, the infamous squash bug (Anasa tristis), finding and removing egg masses from crop leaves and killing the insects when we could. We also detected a stand of Japanese hedge parsley (Torilis japonica), an invasive that we were introduced to in Michigan last week and that was heretofore unknown at Merry Lea. Bill Minter, Director of Land Management, made the report to the national EDDMapS (Early Detection & Distribution Mapping System) database.
On Monday afternoon we received the visit of Dr. Stephen Hawkins, Asst. Dir. of Purdue's Ag Centers, and his guest, Shershah Ameri, farm and campus manager for Kabul University. Mr. Ameri visited Purdue University and Goshen Collage to develop his background in facilities management and sustainability, interacting with faculty, staff, students. We enjoyed showing our facilities and sharing our experiences, and learned of his work at Kabul University through his photographs and a virtual campus tour through Google maps.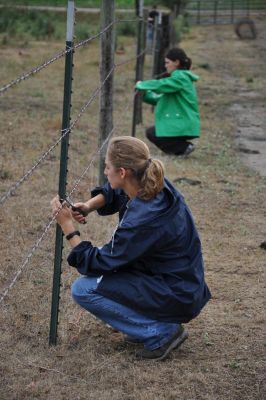 Work continued apace on designing a chicken tractor, a first for the program, and preparing a materials list for purchase. Our week's field trip was to Crystal Valley Organics in Middlebury, a cooperative of Amish farms selling pastured goat, beef, pork and poultry, milk and cheese, eggs, fruits and vegetables. We were shown about the farm by Andy Miller, observing how food and livestock are raised in organic, sustainable ways. For some of us it was the first visit to an Amish farm, and it was interesting to observe ways in which technology was employed on the farm; vacuum to power the milking system, air pressure to operate a variety of tools, a small engine to power a corn picker, hay cutter or baler, and and a small solar panel to charge batteries. Decisions are made based on on the needs and desires of farm and the community. We contributed in a small way to the functioning of the farm by assisting with fence repair in one of the outlying pastures.
– Posted by Dale Hess, Ecological Field Station Director and Associate Professor of Agroecology