What Recent Graduates are Doing
What Recent Graduates are Doing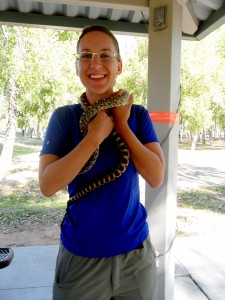 Restoration and Outreach
A 2011 grad, Tori Yoder is currently interning with the National Park Service in Arizona.  She divides her time between restoration projects and working with children through the NPS outreach program.
Soil Conservation
Adie Gerig-Heyerly is a Soil Conservation Technician for the Natural Resources Conservation Service in Condon, OR.  In June 2012 she'll be at the University of Oregon in Eugene studying to get her masters in architecture.
Stream Monitoring and Restoration

Daragh Deegan, a 2003 grad, currently works as the aquatic biologist for the City of Elkhart.  His program monitors fish and macroinvertibrate communities and involves stream restoration projects.  Daragh also dedicates a lot of time towards public outreach and is researching the sub-lethal effects of contaminants on fish.
Biochemistry
Katie Coleman is working at Agdia, Inc. in Elkhart as a Biologist/Biochemist in their Biomaterials Department doing protein purifications, among other things for plant pathogen and GMO tests.
Teaching
Ali Gotwals is an 8th grade physical science teacher in her second year at Henry World School, a public school in Denver, Colorado.  Her husband Andy Brubaker, also a Goshen alumnus, teaches at Henry World School as well.
Graduate & Medical School
Kelsey Eldredge, a 2010 grad, lives in Philadelphia and attends Arcadia University's Doctor of Physical Therapy graduate program.
Liz Nafziger just started her first year as a medical student at Indiana University School of Medicine, at the Fort Wayne center.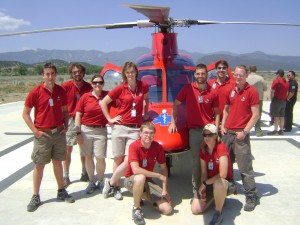 Tyler Keller graduated in 2010 and is currently attending his second year at the University of Kansas School of Medicine. He plans on graduating in 2014. For the time being, he has strong interests in emergency medicine, wilderness medicine, and trauma surgery.
Research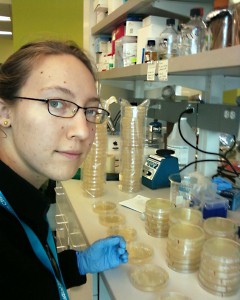 Hannah Miller, a 2010 graduate, has an internship with Seattle Children's Hospital Research Institute, where she is working with Group B Streptococcus (GBS) and Staphtlococcus aureus. She studies how signaling factors allow GBS to transform from a commensal organism to an invasive pathogen, and how they affect antibiotic resistance in S. aureus. Hannah is also working on a temporary project at UW Medicine, where she tests samples for differing types of human papillomavirus (HPV) using a liquid bead microarray assay.