Dr. Doug Schwartzentruber to speak at 2011 Homecoming
Dr. Doug Schwartzentruber to speak at 2011 Homecoming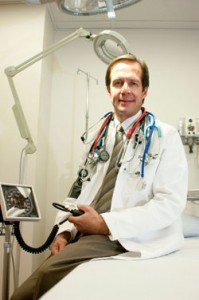 We are delighted that Dr. Doug Schwartzentruber (class of '78) will speak at the annual Biological Sciences Luncheon on October 8th, 2011 from 12-2:00 during Goshen College's fall homecoming. Reservations for the luncheon are required and you can register online.
Dr. Schwartzentruber has recently been named the System Medical Director of IU Health Cancer Services in Indianapolis, Indiana. Previously he served as Medical Director at the Goshen Center for Cancer Care for 8 years, which seeks to "offer holistic programs for strengthening minds as well as bodies, place a premium on family involvement and spiritual needs, and encourage patients to play a decision-making role in treatment selection." (read more).
Dr. Schwartzentruber's research toward developing vaccines against cancer has drawn national attention and he was named one of Time's 100 most influential people in 2010.  Read the GC press release.