Seniors honored with special awards
Seniors honored with special awards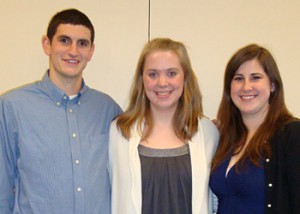 Three students were recently given awards at the Goshen College Business Department's annual celebration dinner. The dinner honored all graduates of the department, and three special awards for outstanding achievement and leadership were granted.
Karla Maust, from Goshen, was given the Academic Award for Outstanding Performance in Business. She served her senior internship at Intercambio Express. Maust is a 2006 graduate of Goshen High School. She is the daughter of Brian Maust and Marcia Good, and attends Assembly Mennonite Church.
Kyle Stiffney, from Goshen, received the Indiana Certified Public Accountants Society Award, which is given to the top senior accounting major. He served his senior internship with Crowe Horwath. Stiffney is a 2006 graduate of Bethany Christian Schools. He is the son of Kirk and Susan Stiffney, and attends Berkey Avenue Mennonite Church.
Rachel Miller, from Seattle, Wash., was awarded the Wall Street Journal Award, given annually to the most outstanding senior student in the business department. The award is based on academic performance, character and involvement in extracurricular activities on campus. She served her senior internship with RSM McGladrey. Miller is a 2006 graduate of Ballard High School. She is the daughter of Terry and Debra Shank Miller, and attends Seattle Mennonite Church.
– By Chase Snyder