Former mission worker gives back through college business class
Former mission worker gives back through college business class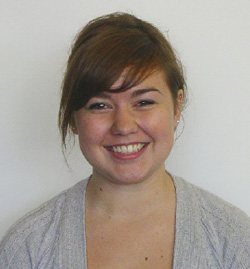 For Grael Miller, short-term service in Bolivia and a semester-long assignment paved the way for long-term connections.
In July 2008, Miller, a member of Kalona (Iowa) Mennonite Church, participated in the Mennonite Mission Network Youth Venture team that helped to build the new Samuelito Daycare facility in Santa Cruz, Bolivia. Miller and nine other young women helped to lay the foundation for the facility opened and inaugurated by the Iglesia Evangélica Menonita Boliviana (Bolivian Mennonite Church) on March 13, 2010.
"The daycare and the building process have been in the back of my mind ever since I left, and I always wanted to find a way to help the process go a little faster," said Miller.
An assignment for her entrepreneurship class at Goshen College proved to be the perfect opportunity to help. Miller and fellow classmates Kaeli Evans and Bethany Gingrich were given $25 to start a small, profit-making business throughout the semester. Their group offered $4 coupon cards for Goshen businesses, and sold them primarily to students, faculty and staff members on the Goshen campus. They earned $700 throughout the semester.
Miller, Evans and Gingrich sent their profits as a gift to support the work of the Samuelito daycare. The daycare provides childcare focusing on health, nutrition, education and faith for children from the surrounding neighborhood in Santa Cruz.
Miller says her time with Youth Venture played a major role in her decision to go Goshen College. "My service experience was really important for me. It changed my college choice. I wasn't going to go to a Mennonite school, but because I got to meet Mennonites from a different culture and see how connected Mennonites are internationally, I was inspired to stay within the Mennonite community and go to Goshen," said Miller.
For more information on Youth Venture and other service opportunities, visit www.mennonitemission.net.
– by Hannah Heinzekehr for Mennonite Mission Network