Winter Mainstage – Translations by Brian Friel, directed by Tamera Izlar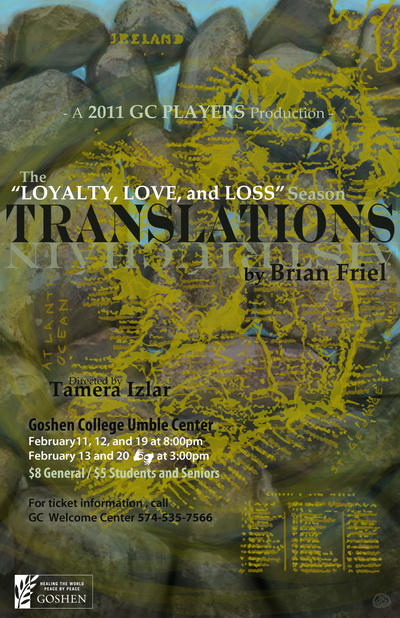 Translations aligns beautifully with the GC Theater Department's "Loyalty, Love and Loss" season theme. Considered one of Friel's most innovative works, the play is a funny and bitter portrait of Irish peasants caught up in the midst of quiet socio-political upheaval, complete with a pair of star- crossed lovers for good measure.
Performance dates are February 11,12,19 at 8:00 p.m. and February 13 and 20 3:00 p.m. The February 20 performance is ASL interpreted. Tickets are $8 general and $5 students/seniors.
For tickets, contact: Lisa Weaver, phone: (574) 535-7566, email:welcomecenter@goshen.edu
Translations by Brian Friel 2011
Cast
Manus                                                                                      Patrick Maxwell
Sarah                                                                                       Meg Kennell
Jimmy Jack                                                                               Josh Hofer
Marie                                                                                       Vanessa Jones
Doalty                                                                                      Samuel Jones
Bridget                                                                                     Liz Core
Hugh                                                                                        Matt Lehman
Owen                                                                                       Lewis Caskey
Captain Lancey                                                                        Joel Kawira
Lieutenant Yolland                                                                    Jacob Landis-Eigsti
Production Team
Director                                                                                    Tamera Izlar
Producer                                                                                  Doug Leichty Caskey
Production Assistant                                                                 Sandy Slabaugh
Stage Manager                                                             Sarah Lerch
Set Design                                                                                Maryn Munley, Sara Klassen
Light Design                                                                             Jerry Peters, Josh Hofer
Costume Design                                                                       Lauren King
Sound Design                                                                           Nathaniel Tann
Props Design                                                                            Stefan Kuhns
Hair & Make up Design                                                            Clare Maxwell
Graphic Design                                                             Hannah Sandvold
Dramaturg                                                                                Kristina Mast
Dialect Design                                                                          Paul Meier
Asst. Stage Manager                                                                Gwen Stephan, Tillie Yoder
Asst. Technical Director                                                            Meg Kennell
Light Board Operator                                                               Jenny Boehs, Aaron Kaufmann
Sound Board Operator                                                 Paul Manickam
Master Carpenter                                                                     Clayton Miller, Phil Stoesz
Master Electrician                                                                     Jenny Boehs, Aaron Kaufmann
Make up Crew                                                                         Meg Kennell, Patrick Ressler, Adriel Santiago
Paint Crew                                                                               Amethyst Blankenship, Maryn Munley
Costume Construction                                                              Laura Horst, Sarah Lake-Rayburn
Professor of ASL                                                                     Colleen Geier
Interpreters                                                                               Brittany Lentz, Sarah Rutt, Angelica Lehman
House Manager                                                                        Kristina Mast, Alisha Bender, Emma Gerig, PJ Kooker, Rachel Mast
Publicity                                                                                   Jodi Beleyer, Kristina Mast
Advance Ticket Sales                                                               Lisa Weaver