Chad Coleman, Director of Residence Life & Director of Intramural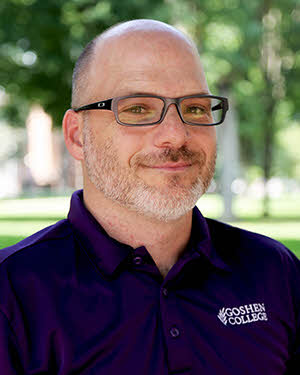 Oversight of Kulp Hall and Small Group Housing
E-mail: chadc@goshen.edu
Phone: (574) 535-7292
Birthplace: Elkhart, Ind.
High School: Northridge High School
College: B.S. Indiana University (Bloomington); Master of Arts at Gonzaga University
Interests include: Sports, films, music and computer technology
What made you want to become a Director?
Based on previous work experiences, I wanted to continue working in an environment where the people are the product. I enjoy relational work and providing leadership in Residence Life at Goshen College because we have such a wonderful community on campus. It has been a pleasure to work with our students; it keeps me coming back for more each year.
What does the position of Director mean to you?
In the Director role, I am in a setting that matches my gifts with the needs of the college. The Director position to me is the link that connects our students with the administration. It is a relational leadership position where we live among the students and not only share life experiences, but provide guidance and leadership to our students with the goal of enhancing the overall quality of life on our campus. We do this through mentoring, community building activities, supervision, and making sure the living environment is well-maintained.
As the Director of Residence Life & Intramural's I oversee Small Group Housing and our upper-class-men residence halls; I look forward each year to providing excellent leadership and strive to make each student feel at home wherever he or she may live. Our Small Group Housing program is a tremendous privilege for our juniors and seniors on campus, and it is my job to walk with them in their experience and keep them connected to the greater campus. Each year I host BBQ's, open houses and a campus-wide sand volleyball tournament that has become a tradition on our campus.
I would like to invite any questions that any incoming students or prospective's may have about residence life or Goshen College in general. I look forward to new opportunities and great people that come on board here each year.